Birmingham NatWest 'bank robbery' was hide and seek game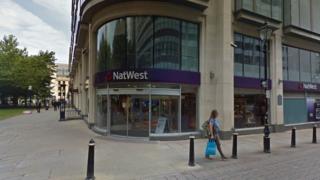 Armed police were called to a suspected bank robbery, only to find staff at the city centre branch were playing a team building game of "hide and seek".
Staff at NatWest in St Philip's Place, Birmingham, were seen hiding under desks at 09:50 BST on Wednesday by a member of the public who called police.
Armed officers arrived and were told it was a "false alarm" as they were playing the game for training.
NatWest said it would speak to staff so they could learn from the incident.
In a tweet, Ch Insp Dave Keen thanked the member of the public who called police before using an emoji and meme to make light of the training exercise.
A NatWest spokeswoman said: "We can confirm that it was a false alarm, following a team building exercise.
"[We] will be speaking to the members of staff involved to ensure that they all learn from this incident."