Solihull murders: Janbaz Tarin jailed for life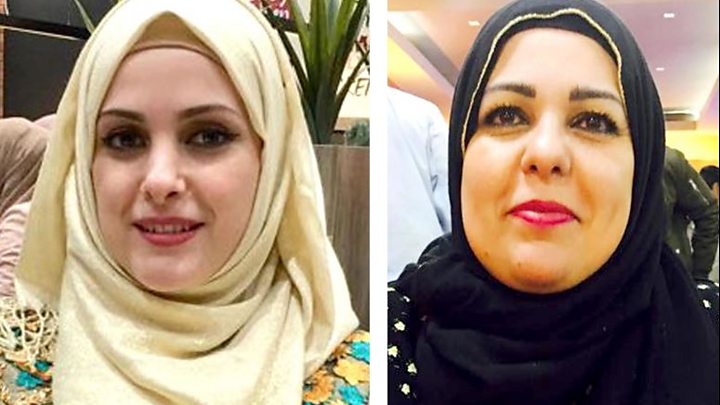 A man was jailed for life after admitting the "brutal" murders of his ex-partner and her mother.
Khaola Saleem, 49, and Raneem Oudeh, 22, were fatally stabbed outside Mrs Saleem's home in Solihull on 27 August.
Ms Oudeh married Janbaz Tarin, 21, in an Islamic ceremony, but broke up with him when she discovered he had a secret wife and children in Afghanistan.
Tarin "spent the day hunting" down Ms Oudeh and her mother who were on the phone to police when he attacked.
He went on the run after killing them and was arrested three days later.
'Destroyed entire family'
At Birmingham Crown Court Tarin, of Evelyn Road, Sparkhill, Birmingham, admitted murdering Ms Oudeh - a mother to a toddler - and her mother.
He was sentenced to life with a minimum term of 32 years.
In a victim impact statement, Mrs Saleem's sister Nour Norris said: "The list of broken hearts goes on and on. That night this killer played god and he destroyed an entire family.
"Let us send a message that those who abuse and murder women will face justice."
Mrs Justice Carr told Tarin his crimes had "devastated" the victims' family.
She went on: "When Mrs Saleem stepped in, no doubt in an attempt to protect her daughter, you stabbed her, whilst holding on to Raneem by one of her ankles and dragging her along."
The judge added: "Your final act was to stab Raneem again, twice in the chest, before running away."
West Midlands Police said it was "a brutal murder of two defenceless ladies by a man who had spent the day hunting them down".
Marriage not recognised
The circumstances of the stabbing are being investigated by the Independent Office for Police Conduct.
Ms Oudeh and her mother were attacked at Mrs Saleem's Northdown Road home shortly after 00:30 BST and died at the scene.
Post-mortem tests found they died from multiple stab wounds.
Tarin and Ms Oudeh met at Solihull College and were married in an Islamic ceremony in 2016 but their marriage was not recognised in UK law.
Ms Oudeh, who had a two-year-old son from a previous marriage, and mother-of-six Mrs Saleem were both born in Syria.
Ms Oudeh had left Tarin in the weeks before the murders after learning about his other wife and children in Afghanistan.
He was abusive towards Ms Oudeh during their relationship and after they split up he repeatedly hassled her.
She then applied for a non-molestation order against him.
Tarin flouted that court order and - in the hours leading up to the killings - Ms Oudeh made three calls to police.
'I will kill you'
That night Tarin followed Mrs Saleem and her daughter to a shisha lounge before hunting them down elsewhere, police said.
Det Ch Supt Mark Payne said police were in contact with Ms Oudeh from the shisha lounge and had been trying to reach her, but failed to catch up with her before Tarin did.
Ms Norris, who now cares for Ms Oudeh's son, said in the first six months of the year-long marriage her niece was "hiding her misery".
She added: "He used to threaten her many times - 'if you leave me, I will kill you and your family'.
"One day she said to me, Auntie, I feel my life's going to end."
Slaughtered protecting child
Fearing for her safety Ms Oudeh went to stay with her mother, with whose help she took out the court order.
In the shisha lounge there was a confrontation involving Tarin, Ms Oudeh and her mother.
Tarin was swiftly ejected by staff after being overheard making threats to kill Ms Oudeh.
He left the bar, armed himself with a knife and drove to Mrs Saleem's home where he stabbed Ms Oudeh outside the front door and then attacked Mrs Saleem as she tried to save her daughter.
Tarin was captured on CCTV running away and went into hiding, triggering a huge manhunt by West Midlands Police.
Asked if she believed the police and authorities had failed to do enough to stop Tarin, Mrs Norris replied: "Yes we do."
"We do feel that and we feel there's a lot of women out there as well probably going through the same thing, who agree with us."
The judge described Ms Oudeh as "intelligent" and "independent" and had been "working through college whilst also caring for her baby son", who, the judge said, "she adored".
She added Mrs Saleem was a "wonderful woman" who was "well known in the community, working with the homeless, poor and needy".