Wolverhampton dog attack left girl's lip 'hanging off'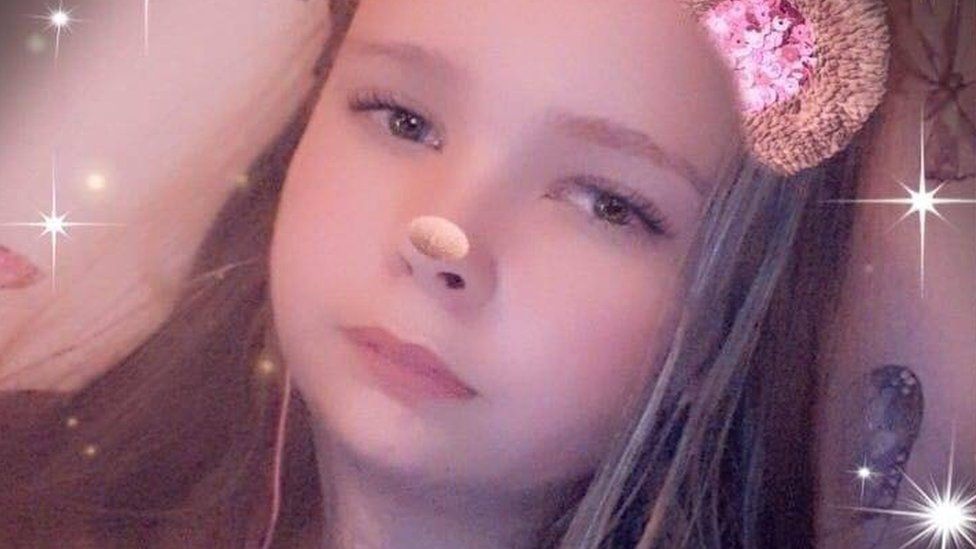 A mother of a girl whose lip was ripped off in a dog attack has spoken of her daughter's "horrific" injuries and said the animal must be caught.
Her mother Claire Forrester said there was "blood everywhere" and she saw Chloe's lip "hanging off".
The dog has not been traced and Ms Forrester said people were "scared to let their children out".
Chloe was returning from school at about 15:40 BST on 19 October when she was attacked by a large black and white dog, resembling a husky or German shepherd.
West Midlands Police said officers were keen to trace the dog and its owner, and is appealing for witnesses to come forward.
Ms Forrester said Chloe was "two minutes from home" when she "dropped her homework on the pavement" and the dog bit her, ripping off her bottom lip.
"It was horrific," she said.
Chloe was taken by ambulance to Birmingham Children's Hospital, where she stayed for two weeks.
Her face and lips were stitched, but Chloe, who will need extensive plastic surgery, must wait three to four months for further surgery.
Meanwhile, her mother said, she had "no feeling" in her bottom lip and had become quiet and reserved, "struggling to get out of the house".
"It's been three weeks and the dog's still out there," said Ms Forrester.
The dog had a collar and seemed well fed, she added.
"To me, that's not a stray. We need to know if it has had all of its vaccinations."
Chloe has received a tetanus jab and blood tests to check for any infections.
"We just don't want it to happen to anyone else," said Ms Forrester.
"People are scared to let their children out to play."
Related Internet Links
The BBC is not responsible for the content of external sites.