Birmingham Airport: More passengers and flights plan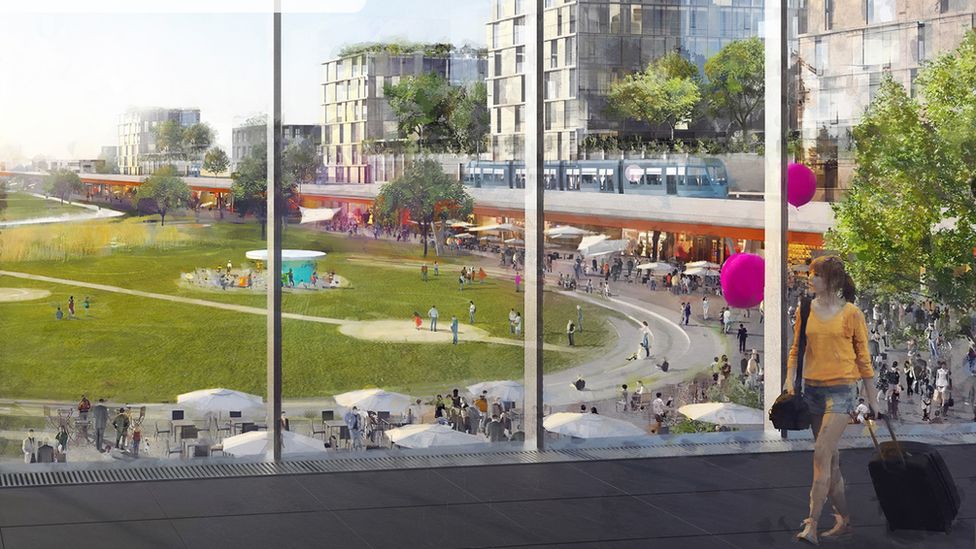 Birmingham Airport has announced an ambitious £500m expansion plan to grow passengers numbers by 40% over the next 15 years.
In a bid to become one of Europe's leading regional airports, bosses want to attract 18 million passengers by 2033, up from the current 13 million.
The plan will mean more long and short haul flights, a larger terminal, new aircraft stands but no new runway.
The airport said it was confident airlines would follow demand.
HS2, the £55.7bn planned high-speed rail link, initially running between London and Birmingham by 2026, as well as additional capacity on the West Coast Mainline will help increase passenger numbers, the airport said.
HS2 will cut rail journeys between the airport and central London from the current 70 minutes to 38.
A new junction on the nearby M42 motorway will also benefit those travelling by car, bosses said.
What will the £500m plans bring:
A larger departures lounge with more seating, shops and restaurants and a glass mezzanine. A new baggage sorting area, larger security area and improved arrivals area
More aircraft stands, increasing capacity from 58 to 69
Connection to the new HS2 Interchange Station
Direct long-haul services to Asia and on the north Atlantic routes, as well as to more European cities and the Middle East
Simon Richards, acting managing director, said: "Over the next 15 years, we will expand and significantly improve the airport to maximise our potential as a single runway airport by investing £500m.
"Our plans take account of our forecast growth and will increase operational efficiency for our airlines and partners and improve the experience for our passengers."
Peter Plisner, BBC Midlands Business and Transport Correspondent
Growth in aviation has continued apace, despite several recessions and passenger rises at Birmingham Airport appear to have followed a similar pattern.
Having said that, current projections are lower than when the last airport masterplan was published. Back in 2007, it was thought there would be 27 million passengers per year by 2030. Now it's just 18 million.
Clearly the projections have been reworked and the recent collapses of airlines like Monarch and Primera Air, probably haven't helped.
It was thought the plan might include a bid for a controversial second runway, but in light of a third runway at Heathrow and a lower than expected passenger forecast those plans have been kicked into the long grass.
Environmentalists will be pleased with that news but they're still opposed to the latest masterplan.
"The aviation industry has always been like that," he said.
"Some airlines do come and go, we are conscious of that.
"But we have a set of airline partners with great stability all the way through the economic downturn since 2008 with actually very stable volumes, that's most of [our] airlines partners, and that's the firm foundations on which we'll build."
A 12-week public consultation on the expansion is now under way.
Related Internet Links
The BBC is not responsible for the content of external sites.