Widow charged after attack victim's funeral overran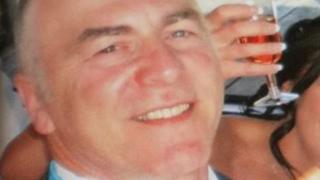 The widow of a man killed in a street attack has said she was devastated when she was charged £374 because his funeral overran.
Nigel Abbott, 65, suffered head injuries when he was the victim of a random attack in Walmley, Sutton Coldfield, Birmingham.
His wife told the Birmingham Mail the funeral overran due to mourners wishing to pay respects at the coffin.
Birmingham City Council said the charge was due to staff working extra time.
The funeral directors have since said they would pay the charge.
Gail Abbott said the service at Sutton Coldfield Crematorium in August finished within the 30 minute time slot they had paid for.
But, due to mourners wishing to pay their respects at her husband's coffin, people were up to 15 minutes late leaving the chapel.
Ms Abbott claims the undertakers were then told about the late fee 15 minutes after the service ended.
Speaking to BBC WM she said: "It made me feel devastated for a second time. How can they put a price on paying respect?
"It is just unthinkable. We have to get the time slot for funerals up to 45 minutes, not 30."
Daniel Ross of Daniel Ross Funerals said he would pay the charge and had asked bereavement services "to show some humanity".
He said: "The reason they applied the fee was due to the management of people leaving the chapel.
"More than 200 people wanted to pay their respects at the coffin. "
A city council spokesman said they had suggested to the funeral director that the family should book a double service, lasting for an hour.
He added: "On this occasion that suggestion was not taken up. The fact this was the last service of the day required staff to work beyond their normal hours of work."