Man detained over Alum Rock traffic warden assault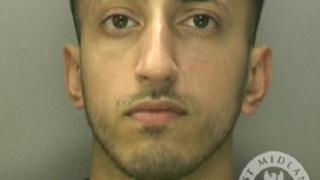 A man who took part in a gang attack on a traffic warden has been detained.
Danyal Bashir, 20, tried to ripped off Charlie Weston's helmet before he was repeatedly stamped on in Hartopp Road, Alum Rock, Birmingham, on 14 September.
He was caught after bystanders shared footage on social media of Mr Weston being attacked after asking a woman to move an illegally parked car.
At Birmingham Crown Court, Bashir was sentenced to nine months in a young offenders institution for assault.
Bashir, who admitted the charge, was identified by police after footage of the incident was shared on the internet.
'Dragged off bike'
Prosecutor Gary Cook said Mr Weston felt social media viewers were "glorifying in his misery".
The court heard Bashir, of Hartopp Road, tried to rip off Mr Weston's motorcycle helmet as he was dragged off his bike by up to six men.
He was attacked after he waited for a woman to move an illegally parked car.
Police were called as Mr Weston was pushed in the chest and told that he would be run over.
Mr Cook said he was later surrounded by a group of men who "asked him whether he liked shouting at a woman".
He was punched before someone kicked his bike and he fell into the road.
As he was on the ground, he was kicked and stamped on, suffering cuts and bruising.
Sentencing, Judge Kristina Montgomery QC said: "I accept that you are now genuinely remorseful, but the true reflection of your character, Mr Bashir, is in your actions not in your words."
Defence barrister Mohammad Hafeez said, for Bashir who has a previous conviction for assault, it had been a "moment of madness" and he was "genuinely remorseful and ashamed".
A spokesperson for NSL, the company that is contracted to run traffic enforcement in Birmingham, said: "NSL takes the safety of Civil Enforcement Officers seriously, and offers counselling to all Civil Enforcement Officers returning to work after an incident, in addition to on-street support."
Councillor Waseem Zaffar said the sentence sent a "strong message" that attacks on staff, employed by the council or contractors would not be tolerated.