Stoke-on-Trent tutor sexually assaulted sisters at their home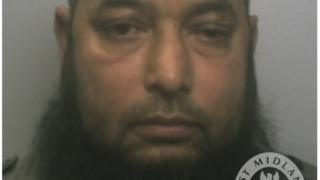 A tutor who routinely sexually assaulted sisters during study sessions at their home has been jailed for 14 years.
Faruque Ahmed, of Rushton Road, Stoke-on-Trent, taught Arabic to the girls over a two-year period when they were aged between eight and 12.
The abuse, during two-hour lessons in Sandwell, happened underneath a dining room table, police said.
Ahmed, 46, was sentenced at Wolverhampton Crown Court on Friday.
He had been found guilty of 10 counts of sexual assault which happened between 2009 and 2011.
He was also added to the sex offenders register for life over the lessons held every Saturday and Sunday.
The West Midlands force said one of his victims would be struck with a bamboo cane if she resisted him.
Det Const Sarah West, described Ahmed, an imam, as a "sexual predator".
Police appealed for anyone else abused by him to come forward.