Viktorija Sokolova: Teen subject to 'ferocious attack', court hears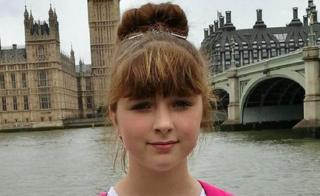 A teenager used "horrific" levels of violence to rape and murder a 14-year-old girl who was found dead in a park, a court has heard.
Viktorija Sokolova's body was found in April by a dog walker in West Park, Wolverhampton, the jury was told.
Jonathan Rees QC said she was subject to a "sustained and ferocious attack to the head" by a youth who went on to sexually abuse her body.
The boy, 16, denies murder, rape and sexual penetration of a corpse.
Jurors at Wolverhampton Crown Court were told the youth, who cannot be named because of his age, accepts meeting Viktorija in the park where he claims consensual sexual activity took place.
The boy had used Facebook's messaging service to arrange to meet Viktorija, Mr Rees said.
Opening the case, Mr Rees said the attack on Viktorija "involved a minimum of 21 blows", leaving injuries consistent with the use of a weapon "like a hammer".
"The force of the attack was such that it caused multiple fractures of the underlying skullcap and her facial skeleton," he said.
"In short, to put it into lay-person's terms, her head had been smashed in."
Mr Rees said her body was found about 07:00 BST on 12 April by a man who initially thought it "was a blow-up doll resting on a park bench".
"At first, he dismissed it as some sort of prank and continued with his walk," he said.
"However, on returning to the same area, he realised, no doubt to his horror, that the figure was the body of a young girl."
Mr Rees claimed the defendant had dragged the body about 150m (492ft) to the bench.
"We understand it is his case that Viktorija was alive and well when he parted from her in the park in order to go home," he said.
"It follows therefore, on his case, that someone else, or some other people, must have come along after he left and were responsible for attacking her and stripping her, before leaving her partially naked over the bench."
The trial continues.