Walsall chicken shop customer left with kidney failure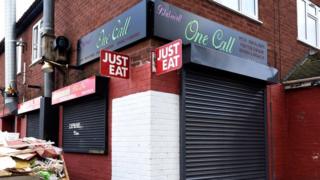 The owner of a chicken takeaway that left a customer in a critical condition with kidney failure has been handed a suspended prison sentence.
A further eight customers at Blakenall One Call Peri Peri Chicken in Walsall suffered food poisoning after a salmonella outbreak in July 2017.
Muhammed Khan, 30, of West Bromwich Road, showed a "flagrant disregard" for safety, Walsall council said.
He was handed a six-month suspended sentence at Wolverhampton Crown Court.
Khan admitted six charges of failing to comply with EU provision concerning food safety and hygiene during an earlier hearing at Wolverhampton Magistrates' Court.
This included the selling of food unfit for human consumption - such as pizzas and doner meat contaminated with salmonella bacteria, and failing to have proper safety measures and food management systems in place to prevent the contamination of high risk food.
Walsall Council environmental health officers visited the takeaway in the summer.
It sent environmental swabs for analysis which identified salmonella enteritis on a kitchen sponge, on a food preparation sink and on the doner kebab cutter.
"As a consequence of the food hygiene failings eight people suffered acute food poisoning - one patient's symptoms were so severe that he suffered renal failure, needed critical care and had a two-week stay in hospital," Walsall Council said.
Khan was also ordered to pay costs of more than £700 to the victims "for expenses they incurred as a consequence of the poisoning" and has been banned as a food operator.
You may also be interested in:
It was his second custodial sentence after he was jailed for six-months in prison for similar offences at another of his food outlets: Pizza Cottage in Caldmore.
Khan is also subject to a curfew tag to reside at his address between 08.00 GMT and 20.00 GMT.