Birmingham bin strike: Workers start latest industrial action
More than 300 Birmingham bin workers have started the first of a series of strikes in a dispute with the council.
It stems from claims some staff have been "blacklisted" for taking part in industrial action in 2017, when piles of rubbish were left on the streets.
The Unite members have worked to rule since 29 December over what it calls "secret payments" given to GMB members who abstained from a previous strike.
A "reasonable" offer had been made to unions, Birmingham City Council said.
Collections in the city have moved to fortnightly, which the council said was to ensure "reliability of service" until the dispute is resolved.
Picket lines were in place at four council refuse depots from 05:00 GMT until 14:00, Unite said.
Unite's assistant general secretary Howard Beckett described the action as a "last resort" after six weeks of talks to resolve the row collapsed last week.
"This industrial action is entirely of Birmingham council's making," he said.
The three-month long strike action that started in June 2017 was part of a dispute over job losses, but GMB members were not involved.
Unite said it discovered the "secret payments" to GMB members late last year and is demanding its members receive equal payments.
The council and GMB said the payments were not because members kept working, but because they had been left out of conciliatory talks which resolved the strike last year.
GMB made a claim against the council as their members were affected by the agreement, which they were not consulted on.
The council has offered to pay Unite members up to £3,000, however the union said this was still about £600 less than GMB members received.
Mr Beckett said: "On one hand, it [the council] has said the payments were justified, but also said that they would make offers up to £3,000 to our members.
"Where is the logic in that?"
The offer tabled by the council last week "was worse than the one which Unite had already rejected", he said and demanded that "everyone will get the same".
But the council has urged the unions to put it to members "so they can give it the serious consideration it deserves".
Up to 150 members were expected at the Redfern Road Depot in Tyseley during the day of action. Those gathered earlier had placards which read "betrayed by a Labour council" and "bin your blacklisting Birmingham Council".
Among the crowd was councillor Majid Mahmood, former cabinet member for clean streets, waste and recycling, who resigned last month when industrial action was announced.
Mr Mahmood told the BBC he was "disappointed with the cabinet" and had joined the picket "to show support and solidarity with the workers who I firmly believe have been discriminated against".
"I'm hoping they [the council] will see sense and end the discrimination against these workers," he said.
During his time in the cabinet, from May last year until January, he said he "did not know about any payment made to other workers" and criticised the council's lack of transparency.
Resident Luke Service said his street in the Stechford area of the city had been "covered in rubbish" with bins "overflowing" since before official strike action began.
He said his recycling had not been taken since 18 December, meaning he still has waste from Christmas piling up.
"There's rubbish all over the street as people leave it next to the bins and then it gets blown by the weather," Mr Service said.
"This has even led to us having rats and foxes in our street at various points.
"It's a tough situation, but there needs to be some sort of compromise."
Workers will be striking for two days a week over the next five weeks, with Unison workers, who are also involved, due to stage their first walk-out on Friday.
Usually, Birmingham residents receive a weekly general waste collection and a recycling service every two weeks, though some residents in the city have complained of missed collections over the past few months, even before industrial action began.
Collections were not being suspended during any strike action, the authority said.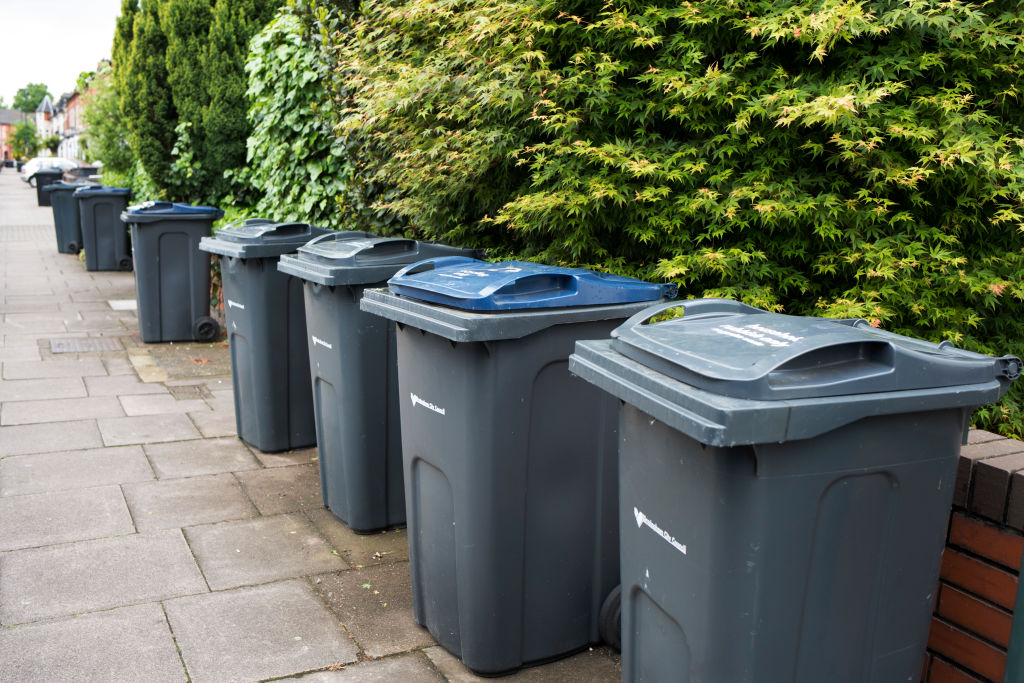 Getty Images
Birmingham's bins in numbers
402,337tonnes of household rubbish collected by Birmingham City Council in 2017-18
345 kgcollected per resident

21%of household waste sent for recycling
Source: Defra
Speaking last week, councillor Brett O'Reilly, cabinet member for clean streets, waste and recycling, said the authority was "determined" to resolve the dispute and apologised for any missed collections so far.
"But until we reach a resolution we must do everything we can to minimise the disruption to the people who live in Birmingham," he said.
Both unions are also pursuing legal action against the council as part of the dispute, which will be holding an emergency cabinet meeting on Wednesday.
Related Internet Links
The BBC is not responsible for the content of external sites.