'God bless Birmingham', says Banksy as artwork appears in city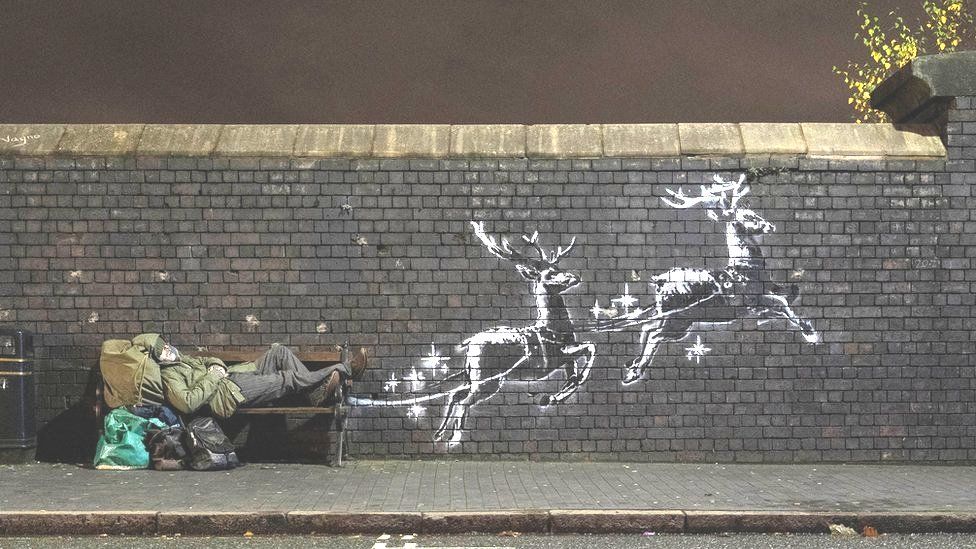 Elusive artist Banksy has created new artwork in Birmingham, a festive-themed piece highlighting homelessness.
The artwork features in a film on Instagram that shows a man named Ryan on a bench being "pulled" by two reindeer painted on a brick wall in the city's Jewellery Quarter.
It has been viewed over 1m times since it was posted earlier.
Hours later though, the work was defaced by a vandal who sprayed red noses on the reindeer.
Barriers had been installed, but the person managed to jump them, BBC Midlands Today reporter Ben Sidwell tweeted.
Unveiling the work, Banksy praised the generosity of people who gave Ryan food and drink while they filmed.
The post said: "God bless Birmingham. In the 20 minutes we filmed Ryan on this bench passers-by gave him a hot drink, two chocolate bars and a lighter - without him ever asking for anything."
Pete Smith's jewellery studio and workshop Vault 88 is located on Vyse Street, opposite the artwork.
He saw it when he arrived for work on Friday and said it had been attracting a lot of attention since the Instagram post.
"The world and his mother is outside," he said.
"There's been people taking pictures of themselves on the bench. It's brilliant. It's very, very clever."
He added the artist's praise was "good for Brummies", and showed "they care".
Luke Crane from the Jewellery Quarter Business Improvement District said it was now a priority to protect the artwork.
"We are very keen to make sure it is a part of our community and not something that is taken away," he said.
"I think it comes at a great time of year - we obviously didn't know it was coming, but what a great time.
"And it's obviously about giving at a time of need for the homelessness that we have in these areas, and it's something that we've been working in partnership with the council and other organisations to try and tackle, so it's great to see it in our area."