Coronavirus: Officer 'very disturbed' by lockdown behaviour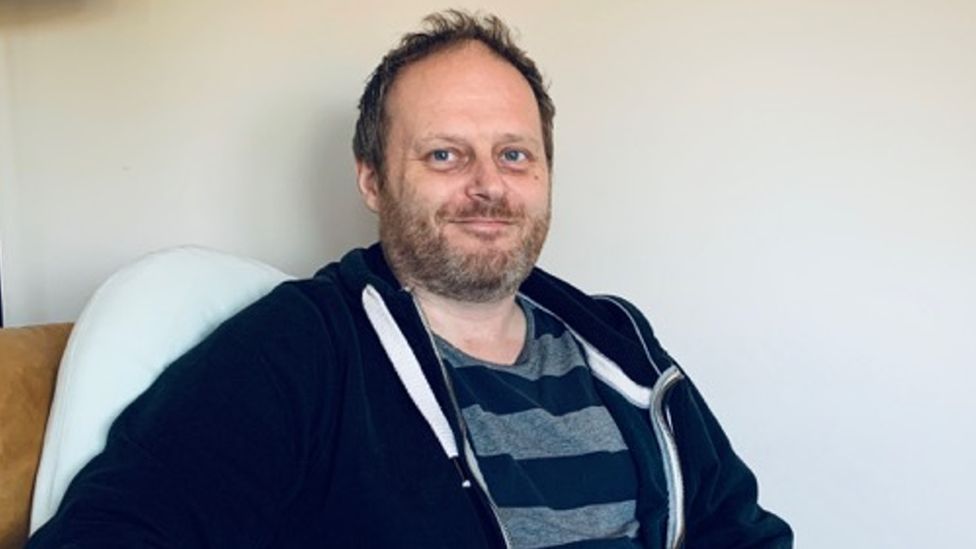 A senior police officer who spent more than three weeks in hospital with coronavirus said he is "very disturbed" at some people's attitude to lockdown.
In a post on Twitter, he criticised "increasingly blasé" behaviour.
His comments come as forces around England reported multiple instances of people ignoring lockdown rules.
Mr Dolby told the BBC he was prompted to speak out about people ignoring lockdown restrictions after his own experience of the virus which "nearly killed" him.
"I've been pretty disappointed and shocked to see so many people being quite blasé about the lockdown and the social distancing," he said.
"You can see queues of people getting into parks, queues of cars driving to beaches, lots of activity that seems to me to be against the medical advice.
"I've felt that a missing voice in all of that was someone who'd been through it, was still going through it in a sense.
"As a 45-year-old fairly healthy person with no real health issues, the virus nearly killed me.
"As a result, not only have I been a victim, my family have been through an awful lot of trauma as well, we are also concerned about what that means for us going forward, so I felt an extra voice adding to that debate would be useful for people to think about what they were doing."
'Not the fun police' - Bank Holiday weekend lockdown breaches
The have been reports from forces across England about people breaching lockdown rules over the weekend, including:
On Saturday, police in Hackney said they were "fighting a losing battle" as people gathered in parks
One driver was fined twice in 10 minutes when stopped while travelling from Edinburgh to Wigan to buy a puppy
Officers in Cumbria stopped a man driving from London to Aberdeen to see his cousin
The same force also stopped a driver from Essex who had driven to the Lake District
Plymouth Police tweeted that in a 24-hour period the Devon and Cornwall force dealt with "over 1023 incidents", mostly "reports of COVID-19 breaches or alcohol related incidents"
Dorset Police said it spent hours moving on sunbathers on Highcliffe Beach, including a family who had travelled from Southampton to use a dinghy in the sea
On Friday, a street party in Corby involving up to 50 people and a bouncy castle in the street was shut down
Elsewhere, seven people were arrested when police tried to stop a birthday party with about 40 attendees in Bolton, Greater Manchester.
In East Sussex, a couple camping at Cow Gap sparked a search involving police, the coastguard and a volunteer lifeboat after leaving their car at nearby Beachy Head.
Meanwhile, Derbyshire Police tweeted that there were a number of non-essential journeys in Matlock Bath.
They added: "We aren't the fun police but looking at Twitter it feels like a growing minority are risking undoing all the good work previously done."
And Liz Stone, from Fawley, Hampshire, took pictures of a number of cars parked at Lepe Beach on Saturday while travelling back from feeding her horse, which is permitted under restrictions.
"It was crazy," she said. "People were walking around, sitting on the beach, some were paddling. They were just having a normal day at the beach."
Mr Dolby's original Twitter post has been retweeted more than 3,000 times and had hundreds of replies, including one from a nurse who said they were "increasingly baffled, frustrated and saddened" by the behaviour of some people.
A month ago today, on a ventilator & in a coma, I started to breath for myself! I am v disturbed by the increasingly blasé way ppl are treating the lockdown. With lack of answers around immunity, my family & I are going to remain shielding. I can't go thru that again. #Covid19 pic.twitter.com/vRAhuGVHX9

— Ch Supt Phil Dolby (@PhilDolbyWMP) May 9, 2020
Meanwhile, a body representing police officers in London said the government's pandemic response was "wishy-washy".
Ken Marsh, from the Metropolitan Police Federation, told BBC Radio 4 authorities "needed to be firmer right from the beginning".
At the government's daily coronavirus briefing on Saturday, transport secretary Grant Shapps was asked about the apparent rise in people going outside, which came after warnings against sending out "mixed messages" with newspaper reports suggesting sunbathing and picnics could be permitted as early as Monday.
He dismissed allegations the government's messaging strategy was confusing, and said: "I think that most people are more than capable of understanding what is meant."
Related Internet Links
The BBC is not responsible for the content of external sites.