Used coronavirus tests handed out by mistake in Birmingham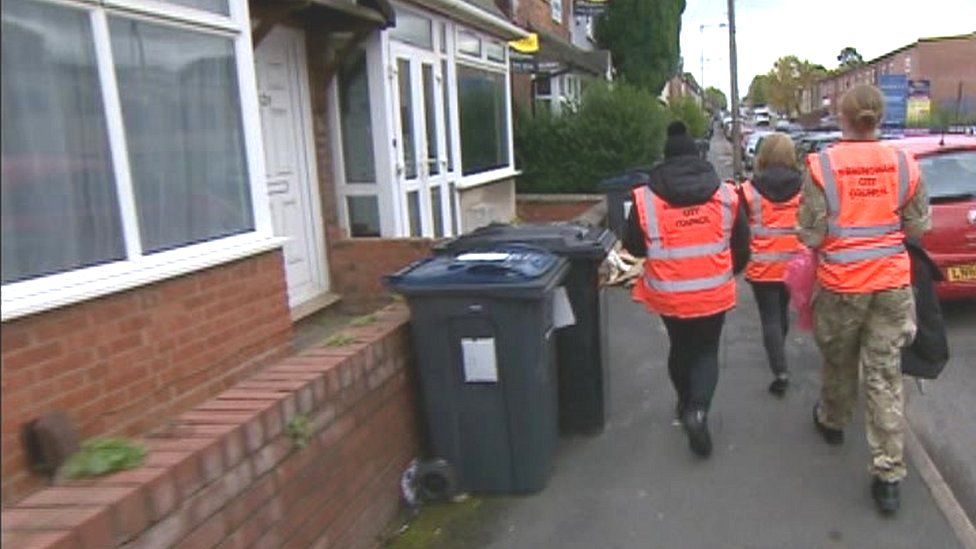 Used coronavirus swab tests were accidentally given out to households in Birmingham, council officials said.
Birmingham City Council said about 25 kits had been given out by mistake in the student area of Selly Oak as part of its "drop-and-collect" service.
It said the error was quickly realised, the kits remained intact and there was no evidence of cross-contamination.
However, student David Lewes, 21, said he and four housemates used the tests without realising they were not new.
"We are really distressed, shocked, violated and one of my friends threw up after finding out they had been used before," he said.
The third-year University of Birmingham student said the council team dropped the test off at their home in Tiverton Road on Tuesday evening saying they would return a few minutes later to collect them.
"We are not familiar with the testing procedure and were a bit concerned there were no leaflets or information packs inside, but they came back and we said about the leaflets not being there and is that a concern?
"They said there's been a mistake and they'd rectify it. Then my housemate was asked if he'd done the test and he said yes and they said, 'OK, put it in the bag' and they left."
Mr Lewes said they only found out later what happened via social media.
"The very least we expect is an apology and we have since spoken to the council and they have [apologised]," he added.
"We know it's human error, but someone must be held accountable.. it's shambolic."
There are 237 Covid-19 cases currently in Selly Oak and neighbouring Edgbaston South and University wards, making them two of the worst hotspots in the city.
Volunteers and RAF personnel distributed kits to households in those areas on Tuesday.
Student Sophie Dunne, who was given a used kit, said test tubes and swabs in sealed bags inside the box they were given "had already been snapped off, so obviously it had been used".
As soon as she and her housemate Natasha Ashbridge realised they "went running up the street to notify the workers handing out the tests".
Ms Dunne said others had also come out of their homes with the kits, some of which had other people's addresses on.
She said she was "in disbelief" that such a thing could happen.
"I now know the council is saying apparently 25 tests were given out [but] from what we saw being collected in, [it] was a greater figure [or] number than that and people have used them and they have been opened which they've [the council] also said they've not."
Ms Ashbridge added: "Obviously students have sort of been blamed for the spike and now it's probably going to rise potentially further because of this mix-up and it's not our fault."
A city council spokesperson said: "As soon as it became apparent that the wrong tests had been given out, steps were taken immediately to rectify the mistake.
"Drop and collect is a vital part of helping to tackle the spread of Covid in our city, with 100,000 tests being undertaken to date. The circumstances around this incident are being fully reviewed and any required changes to process will be implemented."
Dr Justin Varney, the city's public health director, said a seal had been broken on only one of the 25 kits and there was "no evidence that that test tube was opened so we think that the risk of contamination from the sample itself is very, very unlikely".
He said teams had been back out at the properties again on Wednesday "to double check" no-one had been put at risk. The risk of contamination from handling the boxes was also "very, very low", he added.
Related Internet Links
The BBC is not responsible for the content of external sites.