Coronavirus: Wolverhampton sees rise in pregnant patients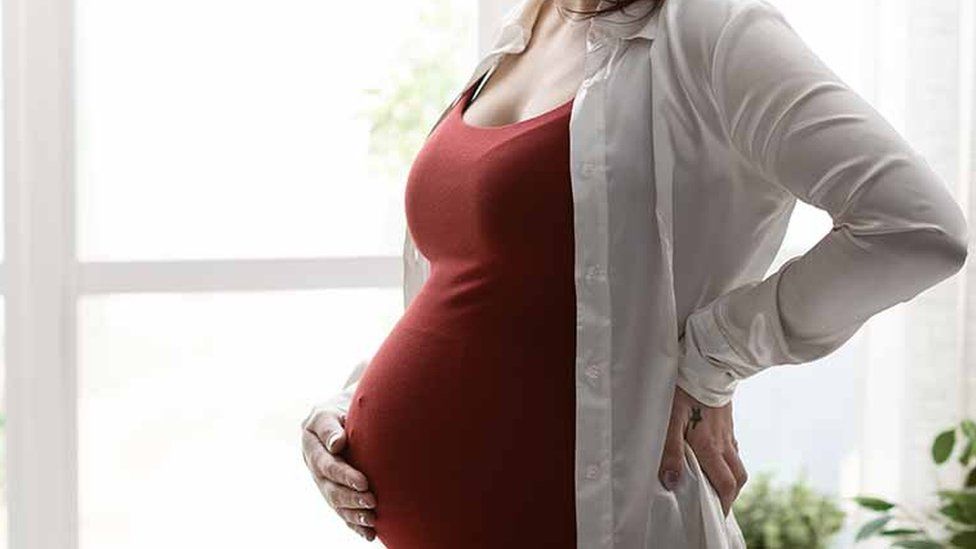 A hospital has reported a "significant" increase in the number of pregnant women being treated for coronavirus.
New Cross Hospital, in Wolverhampton, said part of its maternity ward had been sectioned off for Covid patients.
Nationally, the number of pregnant women in intensive care has almost doubled since the first wave.
The Royal College of Obstetricians and Gynaecologists said pregnant women were at no greater risk of being infected with Covid than the general public.
The Royal Wolverhampton NHS Trust's chief executive said the cause of the increase in the city was unclear.
"We're seeing a lot more pregnant women now suffering with Covid and some of them have been very, very ill," Prof David Loughton said at a regional coronavirus briefing on Friday.
"We have had some deaths," he continued, "so that is really sad".
But the overall number of patients admitted to critical care also rose over this time.
The most recent figures up to 28 January show pregnant women made up about 1.1% of the total number of Covid-19 critical care admissions since September.
The NHS has said there is no evidence to suggest pregnant women are more likely to get seriously ill from coronavirus.
They have been included in the list of people at "moderate risk" from the virus as a precaution because of increased risk of complications from other viruses such as the flu.
Recently, the intensive care unit in Wolverhampton treated two Covid-positive pregnant patients and almost 200 expectant mothers tested positive in the city during the past quarter.
Perpetual Uke, a rheumatology consultant at Birmingham City Hospital, was admitted to a critical care unit while pregnant with her twins in April.
She believes pregnant women should be shielding.
"At a point, the movement of my kids reduced significantly," Dr Uke said. "If not for swift action taken by the team that was managing me, the children would have been dead.
"The truth is, these women who are pregnant should be prioritised."
The Royal College of Obstetricians and Gynaecologists said the "impact of the increase [in cases] had been magnified" because "overall the number of women needing critical care treatment is low".
"We know there is increased prevalence of the virus among younger age groups in this wave," a spokesperson said.
"Current evidence suggests pregnant women are at no greater risk of being infected with coronavirus than the general public," a spokesperson for the Department of Health and Social Care said.
"As a precautionary measure, and because this is still a new virus where the evidence base is continually growing, pregnant women are classed as 'clinically vulnerable'."
Related Internet Links
The BBC is not responsible for the content of external sites.