Comic Relief: Birmingham boy's lockdown jokes inspire campaign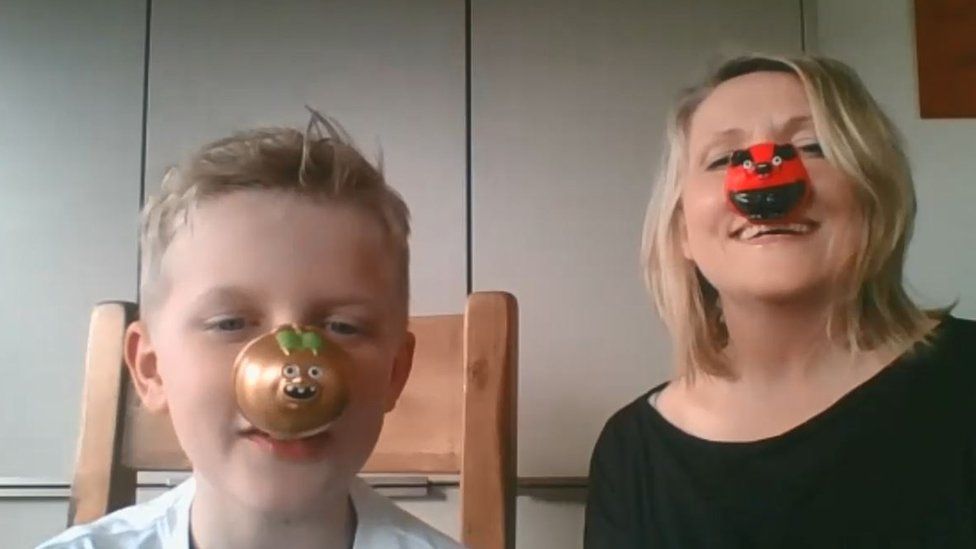 A boy who left jokes at the end of his driveway during the coronavirus lockdown has helped inspire a Comic Relief campaign.
Sir Lenny Henry wrote to the eight-year-old to say the charity had launched its Share a Smile campaign prompted by Sonny's "wonderful idea".
Sonny said he was "really, really, really amazed" to receive the letter.
The schoolboy posted jokes daily for 100 days in an effort to "just make people smile," he said, and had been "blown away" to receive the letter.
"At first I didn't know who [Sir] Lenny Henry was, but then when my mum and dad started telling me, and we watched a couple of episodes of Tiswas, he just made me really, really laugh."
The actor and comedian said in the letter to Sonny: "As a fellow Midlander (Dudley's great, we've gotta zoo and a canal!) and someone who loves to laugh and make others laugh too, I was touched by your brilliant idea of putting jokes in your windows to make your neighbours smile.
"I'm sure it really cheered people up and put a smile on their face when they really needed it."
"Inspired by your wonderful idea," the letter continued, "we launched Share a Smile."
The charity said the campaign was about getting the whole country sharing their favourite jokes with their neighbours and community.
Mum, Lisa, said she was "so, so, proud" of her son.
"Just to have chats with people that were passing - they came by every day to have a look - was really lovely," she said.
"Keep up your incredible work Sonny. With young people like you in it I know that the country will be laughing long into the future," the letter from Sir Lenny concluded.
Related Internet Links
The BBC is not responsible for the content of external sites.