Birmingham's Jewellery Quarter clock 'restored to former glory'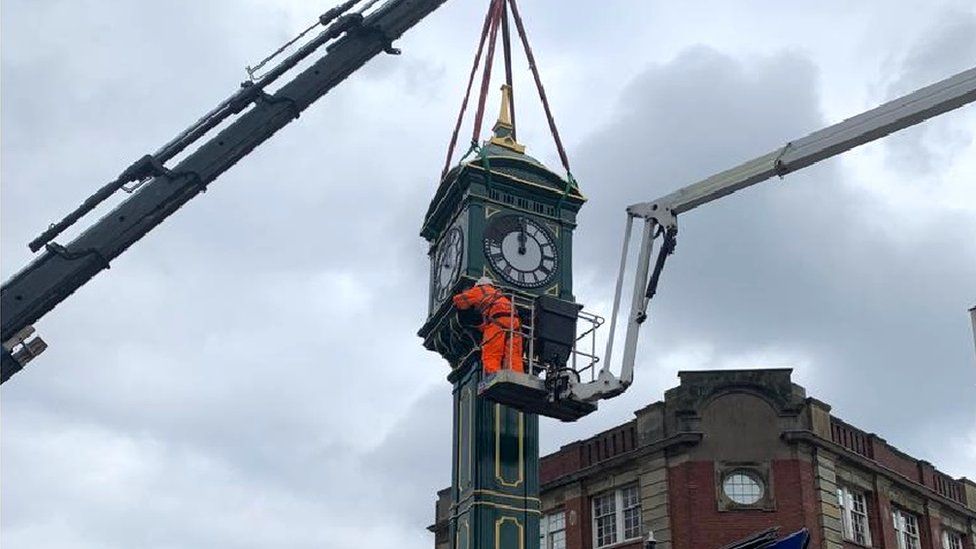 A landmark clock which has been silent for about 30 years is to chime again following a £150,000 refurbishment.
The Chamberlain Clock, which was taken to a factory for repairs in August, has been put back in place in the heart of Birmingham's Jewellery Quarter.
The clock is a memorial to Joseph Chamberlain, noted for his work in Birmingham as mayor and an MP.
The project includes an information panel which aims to give a "balanced story" about him and other figures.
It is part of work led by the Jewellery Quarter Development Trust which includes restoring buildings and cemeteries.
Luke Crane, the trust's executive director, said the clock had been "restored to its former glory".
Clockmakers Smith of Derby repaired the mechanism, clock face and bell and gave it "fresh green paint", Mr Crane said.
He said the clock, which sits on a roundabout, was a "focal point" and a popular meet-up place.
"It's 118 years old so its been there for as long as anybody around here can remember," he said.
Mr Crane said it had been "missed very much" during the months it was in the factory.
Chamberlain is noted for the mark he left on Birmingham, including building schools, swimming pools and libraries.
But part of the project included looking at his wider role.
"As well as achieving a lot for Birmingham, Chamberlain is regarded politically as a controversial figure, because of his involvement with the Boer War and his position as a colonial secretary," project organisers said.
Related Internet Links
The BBC is not responsible for the content of external sites.