Line of Duty: Gregory Piper relives 'exhausting' car scene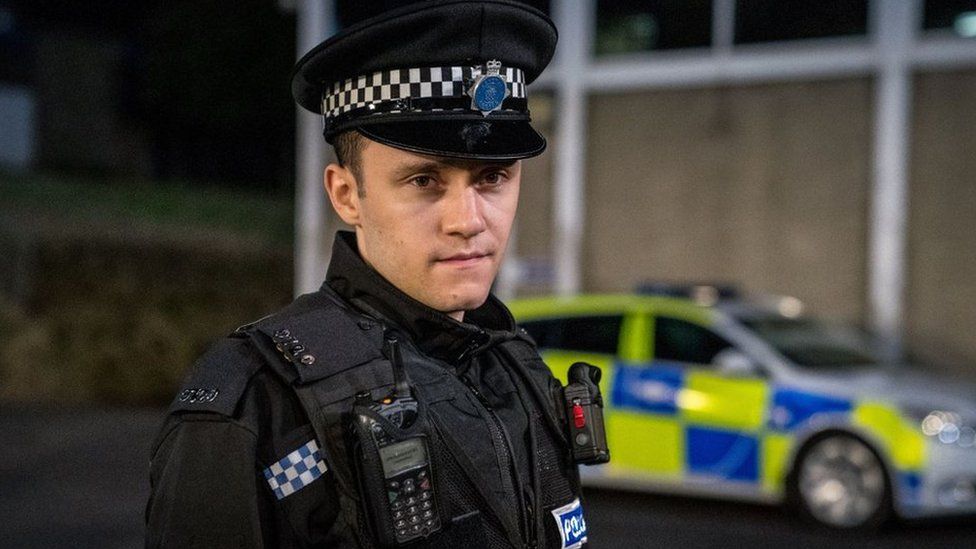 A Line of Duty star says he spent three "exhausting" nights in freezing water for a dramatic scene in which a police car careered into a lake.
Gregory Piper, 23, who plays rogue PC Ryan Pilkington in the BBC One drama, admitted he was "not the greatest swimmer at all" following the airing of the latest episode on Sunday.
Piper, from the West Midlands, said he was "really, really proud of the team".
He said anyone going into the water was given hot water bottles and blankets.
In the most recent episode of series six, Pilkington's dark side emerges, when he distracts a fellow officer, gaining control of the car and forcing it into the water, before drowning his colleague, PC Lisa Patel.
The actor, who appeared in the show's first series when he was aged 13, told BBC Radio WM the filming of the scene took place in mid-November over the course of three nights.
Piper, from Halesowen, said: "I'm not the greatest swimmer at all, but it was so cold, it was exhausting to try and swim, so I'm glad I made it to the shore.
"It took three nights... you do it so many times, you kind of just stop counting... you get warm and then it'd be like, right, back in."
He said the "whole crew" really looked after each other and despite the climate, found the scene "so exciting to film".
"It was absolutely amazing, reading it and getting really excited and just imagining what it was gonna be like," he said.
The show's writer, Jed Mercurio, praised the actor's performance in the episode which was filmed on "bitterly cold" nights.
The return of Line of Duty on 21 March attracted the biggest audience in the BBC One programme's history, according to overnight figures.
The opening episode of series six was watched by 9.6 million viewers.
Piper said he was "really, really nervous about how it [the show] was received", but there had been an "absolutely amazing response".
"On social media... I've had so many lovely, lovely comments.
"And like through the second episode, when I show up, I had to turn my phone off, because I've never had it going off so much."
Quizzed about the programme's much-discussed use of acronyms, he was unable to say what PNC (Police National Computer) or DPS (Directorate of Professional Standards), stood for, but he knew OCG, representing organised crime group.
And asked if he was aware of how the series finishes, he said it was on a "need to know" basis.
But in terms of himself, Piper said he was "just waiting for things to happen".
He added: "[I'm] just trying to move forward and get different things, but this is definitely one to remember. It's just been an amazing experience."