Birmingham mental health unit 'failed us' over suicide
By Michele Paduano
BBC Midlands health correspondent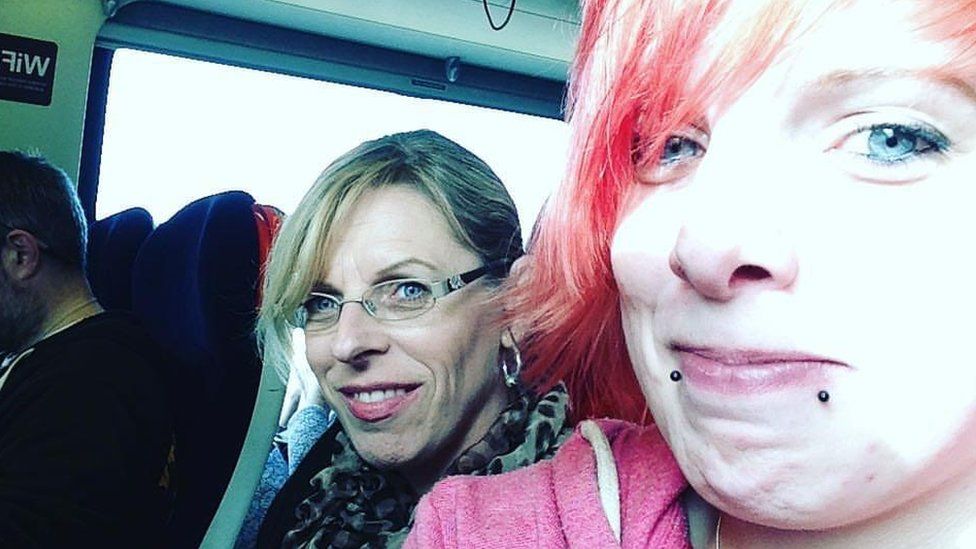 A man says he feels failed by an NHS trust after his partner became the eighth person to take her own life by the same means at a mental health unit.
Hazel Joy, 48, left a note saying she wanted to be with her daughter who died after suffering with cystic fibrosis.
The trust says it is investing £2.7m upgrading all its facilities.
An investigation into Ms Joy's death by the trust found many of the same failings that contributed to Ms Hussain's death.
Birmingham and Solihull Mental Health Trust did not have an anti-door ligature system in place on its en-suite bathroom doors, which it acknowledges led to eight deaths in seven years.
Although pressure sensors have now been installed on the ward, the trust says there have been a further seven attempts at suicide using the same method in its facilities since August.
Ms Joy, from Frankley, had been the main carer for her 28-year-old daughter, Sarah, who had cystic fibrosis and was waiting for a lung transplant but died.
"You cannot imagine the pain," her long-term partner, John Bailiss, said.
"I have lost my daughter and my partner within 12 months and I am now struggling to work and look after my eight-year-old granddaughter.
"They did not search her belongings. They did not take away things that she used to harm herself. They did not find the suicide note that she left.
"This trust failed us, but I cannot believe that it had failed so many others before us."
Ms Joy was first referred for treatment after admitting to her GP that she had prepared for suicide in June but had not gone through with it because she needed to look after her granddaughter.
A suicide note found in her belongings said she needed to be with her daughter.
The review said her records did not consistently document her mental state and risks identified were not put into a care plan.
Ms Joy was not given treatment because the psychologist was on leave and handover documentation did not reflect staff concerns.
Her death followed Ms Hussain, 41, who died at the same secure accommodation in May.
An inquest into her death concluded she would still be alive if not for a series of failures by the mental health trust.
After Ms Joy's death, the Care Quality Commission inspected the trust in November.
It demanded Birmingham and Solihull Mental Health NHS Foundation Trust update all its doors in secure accommodation by June.
The trust said it agreed in December to spend £2.7m putting pressure sensors across all its acute inpatient wards and has recruited more staff while the installation is carried out.
It added it did not believe its mortality rates were significantly different to other comparable NHS trusts.
If you have been affected by issues raised in this story, sources of support are available via the BBC Action Line.
Related Internet Links
The BBC is not responsible for the content of external sites.