Lady Leshurr: Rapper used lockdown to focus on mental health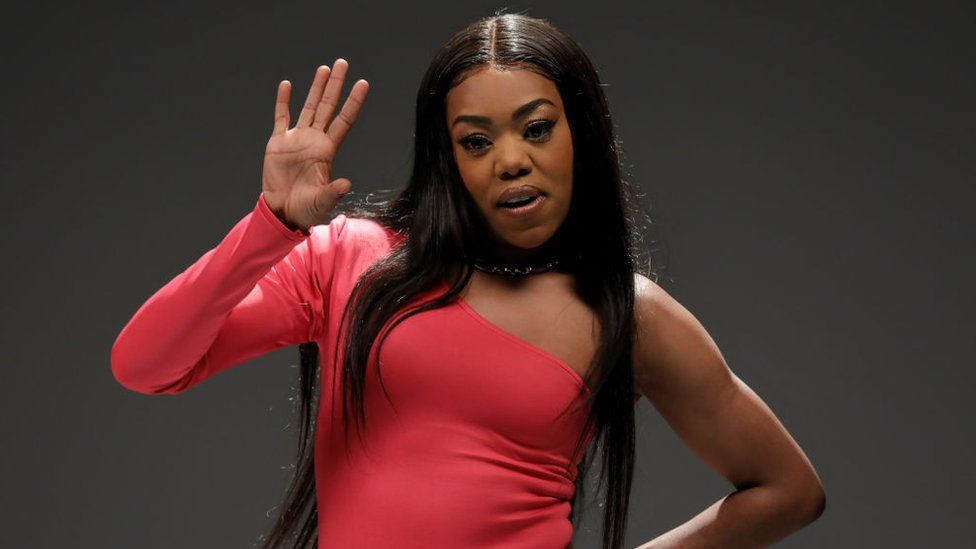 We all have our ways of winding down and at the moment, rapper Lady Leshurr's is to look for houses.
"I listen to jazz music in the background, put my little lights and candles on, that kind of gives me my little zen space," she says.
The Birmingham-born artist has used lockdown to focus on her work-life balance and mental health.
"I feel like a lot of people did need lockdown, just to be able to slow down," the rapper says.
"Some people are working so hard and burning themselves out and then still continuing.
"That happened to me a couple of times. For me, it's because I don't want to miss out on opportunities, but I learned that I need to make sure I'm good mentally."
Leshurr (real name Melesha O'Garro) talked about life feeling like a running machine at the gym with no button to get off.
"I've literally been like that for the majority of my career," she said.
The 32-year-old grew up listening to the likes of Eminem and Sister Nancy. Later she honed her skills at a local youth club in Solihull, before making waves on the UK grime scene.
Her career rocketed when, in 2015, she launched Queen's Speech, videos featuring her witty freestyle raps with references to Tetley's tea, Postman Pat and beans on toast.
The fourth episode racked up more than 60 million views and she recalls: "It just kind of took off. I realised, not only do I need to be myself a bit more, but the world needs more laughter and happiness."
She said at the time it seemed like a "culture shift" - using grime in a more light-hearted way. Since then, she said she had not "looked back".
The rapper performed at Glastonbury, the Proms and branched out into other areas, reaching the semi-finals of Dancing On Ice earlier this year and winning Channel 4's The Celebrity Circle.
But she said being in her 30s and facing tough challenges in recent years, including the loss of her big sister to breast cancer in 2019, was making her look at her own wellbeing.
"Because I'm getting older as well now, I used to be so active, but now I'm kind of comfortable with how my career is, and I want to think about other things - like get a mortgage, get a house, more stuff like that," Leshurr said.
"I need to set up for my future, whereas before I was just on the running machine.
"It comes with growth and maturity, just learning a bit more about yourself and having the space to find a new you, who you are inside, and taking care of yourself."