Mission: Impossible request leads to Hollywood encounter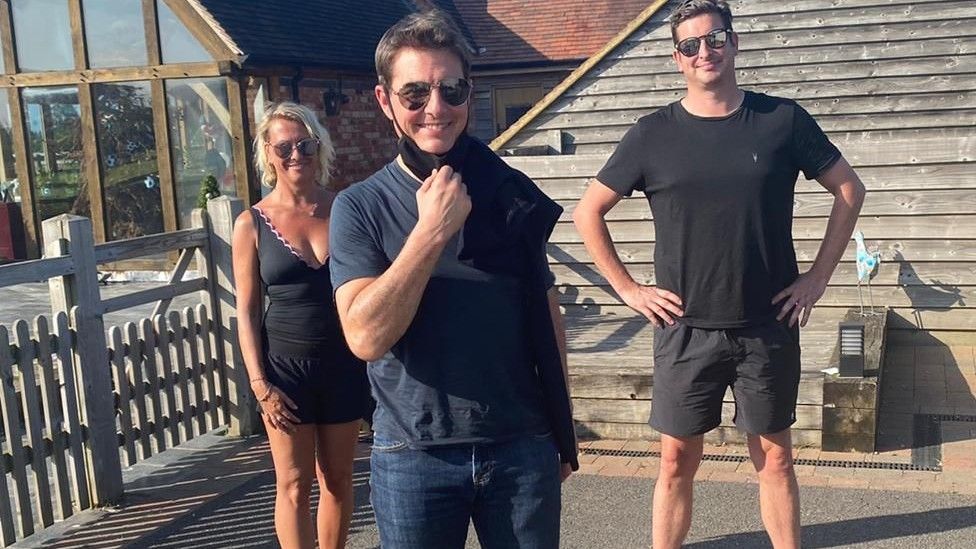 A family's mission, which they chose to accept, led to an encounter with Hollywood royalty.
Tom Cruise, currently in the country filming the latest Mission: Impossible film, landed by helicopter in Alison Webb's Warwickshire garden.
The family had only been told an unnamed VIP needed somewhere to land as the nearby airport was shut.
Cruise posed for pictures and gave a free helicopter ride to Ms Webb's children and her partner's children.
The star is currently filming at Birmingham's Grand Central with co-star Hayley Atwell.
Ms Webb, of Baginton, was told her field was needed for a helicopter to land for an unnamed "VIP who was running late", she said, while Coventry Airport was temporarily closed.
"I thought it would be kind of cool for the kids to see the helicopter land in the garden," she said.
"He [Tom Cruise] basically arrived and got out and it was like 'Wow'."
"He went straight over to the children for a chat, then came over and elbow bumped us and said thank you very much.
"Then he said if the kids would like they could go up in the helicopter."
The children were taken on a ride by the pilot, Ms Webb said, while Cruise attended a meeting.
"It turned out to be an incredible day," she said.
"It was surreal, I still now can't believe it happened."
Dozens of people have been sharing sightings of Cruise, 59, and Atwell, filming at Grand Central shopping centre.
Maxine Thawley, from Nottingham, said it was "exciting" to see the stars.
"We saw lights and lots of people with cameras, and we couldn't work out what was going on," she said.
"We walked past and had a coffee and realised it was Tom Cruise.
"I am excited to watch the film so I can say I was walking past when they were filming that scene."
Part of the centre is shut to the public between Monday and Wednesday while filming on Mission: Impossible 7 takes place.
Escalators running between the shopping area and concourse of New Street station are shut, with security guards standing at the bottom of some.
And on Saturday, Cruise visited Indian restaurant Asha's, causing a stir on social media.
Many questioned if it was genuinely him, with others dubbing him "Two Tikkas Tom" after the restaurant reported he ordered two chicken tikka masala dishes.
Nouman Farooqui, general manager, said Cruise arrived in a group of five who ordered dishes to share - including the tikka masala which they made especially for the actor, of which he ordered seconds for the group.
Despite the speculation, Mr Farooqui said it was "100%" the Hollywood star.
"I came to check everything was okay, and I was right next to him, so I knew it was Tom Cruise," he added.
Mr Faroqui he was "starstruck" by the Top Gun Star calling him "a polite, humble, down to earth man".
The seventh instalment of the Mission: Impossible franchise, directed by Christopher McQuarrie, is belatedly set for release in May 2022 and will also feature actors Simon Pegg, Ving Rhames and Vanessa Kirby, along with Rebecca Ferguson and Henry Czerny.