'I want to cycle without the fear of being hurt'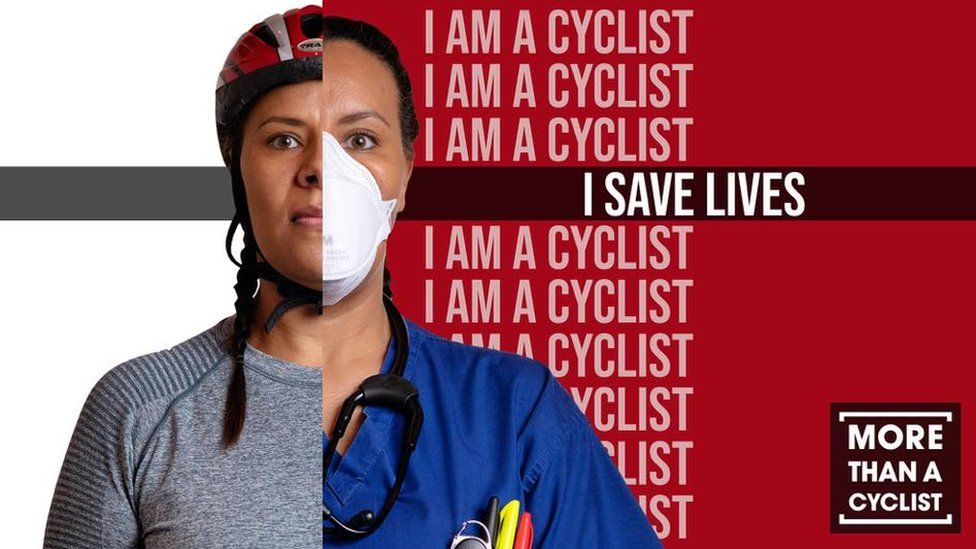 A new social media campaign seeks to highlight to motorists that each cyclist is a person rather than a piece of street furniture.
It is raising awareness of the risks to those on bikes as more cars return to the roads after lockdown.
Joanne Ness, from Birmingham, launched the "More than a Cyclist" message after a fatal crash involving a friend.
An experienced cyclist herself, Ms Ness said his loss left her too frightened to enjoy the sport for months.
Last year, 140 cyclists died on Britain's roads.
The latest government figures show there has been a 4% decrease in the number of cyclists killed in the past year, which the Department for Transport associates with a reduction of traffic during the pandemic.
"Cycling has always been a bit dangerous," Ms Ness said. "In lockdown one, things were quiet, but ever since, the roads have got really bad.
"We've had so many close passes, with motorists being quite angry."
On 14 November, 41-year-old father-of-two Martyn Gall was killed in Alvechurch, Worcestershire, after being involved in a collision with a car. A second cyclist was critically injured.
"It was really traumatic, I stopped riding for about four months," Ms Ness said. "I couldn't face being on the road, I didn't want to put myself at risk."
But as well as being left shaken, it also inspired her to take action.
Working with Kings Heath Cycle Group, of which she is a member, she came up with her campaign and launched it earlier this year.
Through the group's network of about 200 cycling enthusiasts, Ms Ness was able to find volunteers to help with the project, including photographers and graphic designers.
The images, she explained, aimed to show "the human face of a cyclist" and remind motorists "please just give us two metres".
She said: "All we're asking is for anyone on the road to consider cyclists and who they are."
Ms Ness said she was encouraged by the changes, but wanted more to be done to make sure drivers were aware of the risks faced by cyclists.
"Cars are machines, they're killing machines," she said. "Roads are there to be shared - please don't hurt us."