Historic Wolverhampton pub recreated at Black Country Living Museum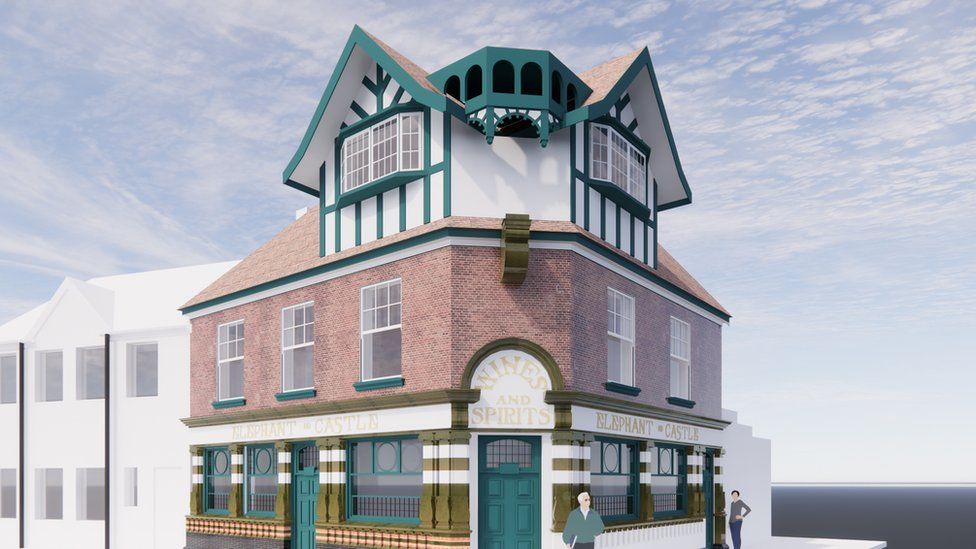 Work is under way to recreate an historic pub as part of a £23m museum expansion.
The Elephant and Castle, which once stood on a Wolverhampton street corner, will form part of the Black Country Living Museum in Dudley, West Midlands.
The wider project to create a new town will also include a local library transported to the site brick-by-brick.
A new visitor centre at the museum will also be constructed as part of the plans.
Built in 1905, the Elephant & Castle was once a grand Edwardian pub, and was seen as a major landmark for those coming into Wolverhampton.
In 1920 it became part of the Banks's estate, one of the larges breweries in the Midlands.
The pub had a diverse clientele, said the museum, where "Irish, Jamaican and South Asian workers met, drank and played dominoes together" in the 1960s.
Once the building is complete the pub will be "brought back to life" using memorabilia from the 1950s and 60s.
Site manager for the brickworks company involved in the build, Tim Darrall, said he remembered spending many a weekend in the local which stood at the corner of Stafford Street and Cannock Road.
He said he was "honoured" to have laid the first bricks during the construction of the "much missed landmark."
"I can't wait to have my first pint in the finished build," he added.
The pub was unexpectedly demolished in 2001 before it could be considered for listing, said the museum.
When finished it will be the "jewel in the crown" of the museum's development, called Forging Ahead, said project lead John Hughes.
The pub, along with Dudley's original Woodside Library, which is being transported to the site, will form a "gateway to the new historic development," said Mr Hughes.
"The exciting thing but also the challenge is that this is in living memory for a lot of people, so we're very keen to get things right."
The museum is also asking for anyone with memories or personal stories about the popular pub to get in touch.
Related Internet Links
The BBC is not responsible for the content of external sites.