Moseley Road Baths: Historic pool and library allocated £15.5m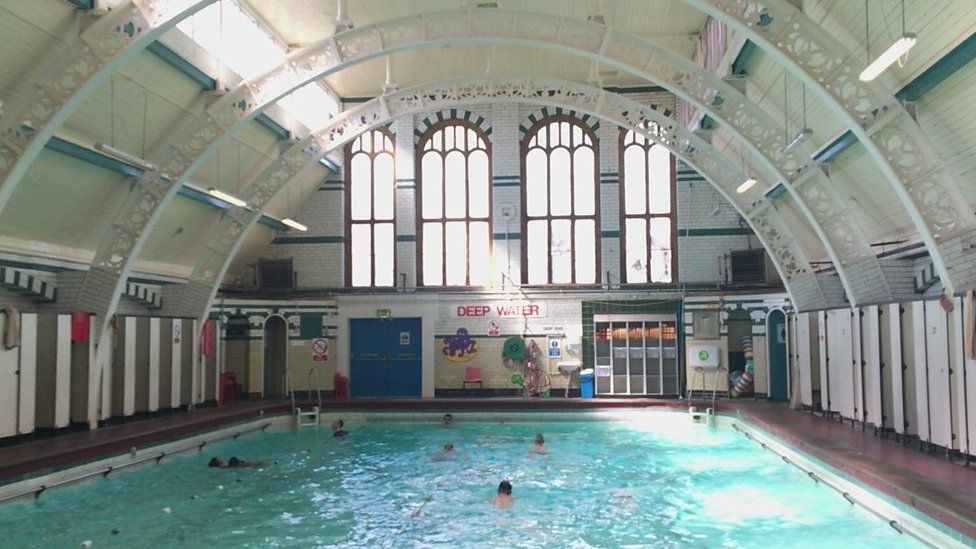 A pool dating back to 1907 and a 19th Century library building have been allocated £15.5m towards improvements.
The government Levelling Up funding would enable the first phase of a £32.7m plan to transform Moseley Road Baths and neighbouring Balsall Heath library, Birmingham City Council said.
Repairs to the baths' building fabric are planned to prevent further decline.
Work includes restoring historic interiors and installing lifts so that more of the building can be accessed.
The site in Balsall Heath is the oldest surviving Grade II* listed swimming baths currently operating in Britain, Historic England has said.
It was forced to close in 2003 and there were fears it would never open again, but a partnership including community groups and the city council had other ideas.
The site now hosts a programme of swimming and wellbeing activities.
The council said due to the funding allocation there would be "major improvements" to the nearby library including a physical connection between the sites.
The library was one of the authority's "most well-used services in the city", but the 125-year-old building was in need of repair.
As well as the Levelling Up grant, funding will be made available from Historic England, the council and World Monuments Fund to initiate a two-and-a-half-year programme of capital restoration.
Chair of Moseley Road Baths Charitable Incorporated Organisation (CIO) Karen Leach said the news "changes everything for us".
She added: "It has been such a challenge operating swimming within this amazing but crumbling building with its leaky roofs and antiquated boilers and filters.
"Suddenly the restoration we've collectively been working towards is becoming a reality."
A coalition of organisations - including the funders, the CIO, and Friends of Moseley Road Baths group - has developed a long-term vision to restore the buildings.
Related Internet Links
The BBC is not responsible for the content of external sites.