Woman who racially abused pub doorman on Birmingham night out jailed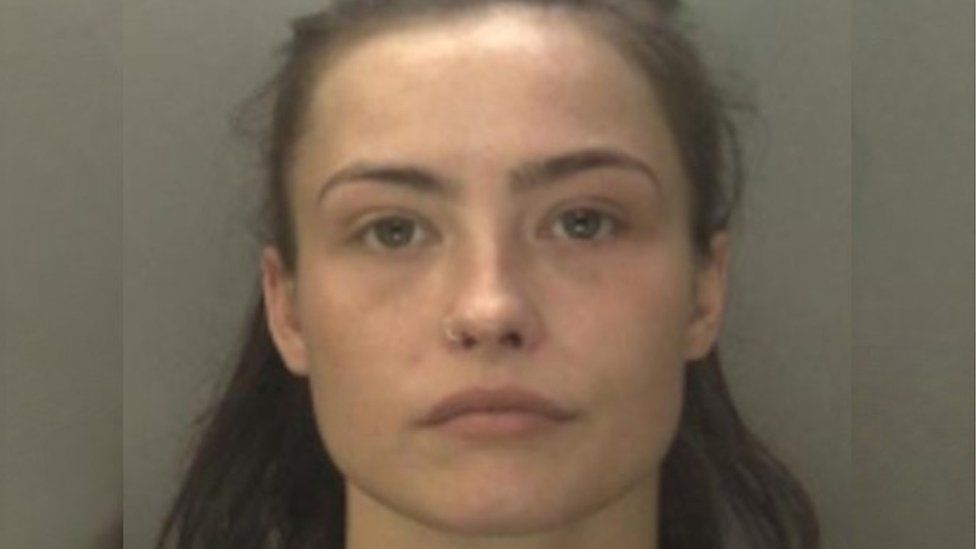 A woman who racially abused and assaulted a pub doorman has been jailed for 14 weeks.
Sharna Walker, 25, was filmed spitting at and abusing Tristan Price outside the Figure of Eight Wetherspoons branch in Birmingham on 22 May.
Video of the incident attracted millions of views on social media.
West Midlands Police said Walker reacted angrily, using racist language at least 10 times, after being asked to leave the pub.
She also spat in Mr Price's direction and smashed a glass panel in a door by kicking it which she then proceeded to push into the doorman's back as he turned to go inside.
As well as a custodial sentence, Walker was also ordered to pay £500 in compensation to Mr Price.
"It just made me feel small," he said.
"If I'm being physically attacked, I'm allowed to, obviously, defend myself, but against a verbal attack, you're literally not allowed to do anything.
"I felt like I was being attacked, it was just weird feeling of being attacked and being helpless."
Walker, who also admitted criminal damage at an earlier hearing, was banned from the pub on Broad Street for two years unless given express permission by the landlord.
"Racist behaviour is completely unacceptable," Ch Insp James Spencer said.
"This was a disgraceful incident and people were understandably disgusted at her actions."
The sentence was welcomed by Mike Olley, general manager of Westside Business Improvement District, which represents businesses in the area.
"This was a sustained verbal and physical attack on a doorman calmly doing his job," he said.
"This is the correct level of punishment which will hopefully make every person think again before unleashing unwarranted verbal and physical abuse."
Related Internet Links
The BBC is not responsible for the content of external sites.