Liver-branding surgeon Simon Bramhall struck off medical register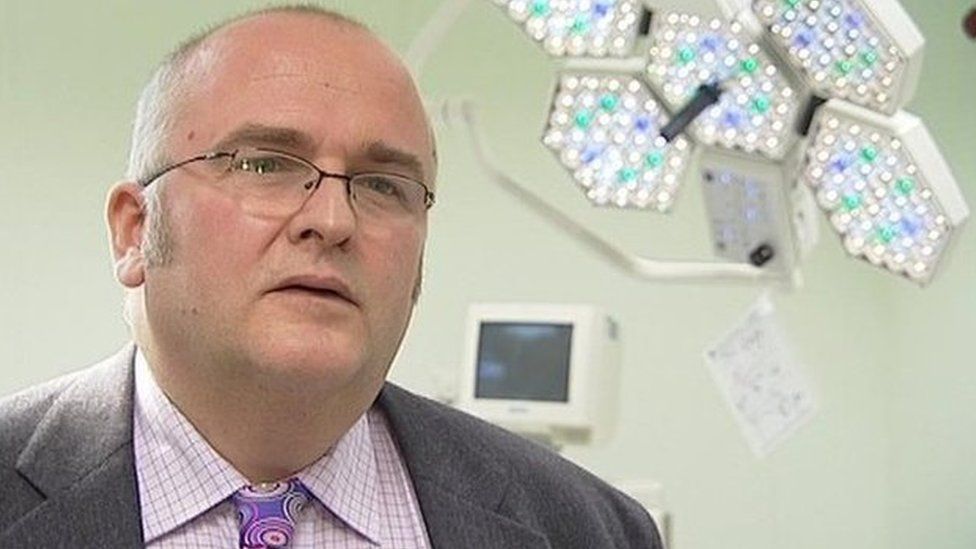 A surgeon who branded his initials on two patients' livers has been struck off the medical register.
Simon Bramhall admitted using an argon beam machine to autograph the organs in 2013 while working at Birmingham's Queen Elizabeth Hospital.
Reviewing the case, the Medical Practitioners Tribunal Service (MPTS) said it was an "act borne out of a degree of professional arrogance".
It said his actions "undermined" public trust in the medical profession.
In December 2017, Bramhall, of Tarrington, Herefordshire, admitted two counts of assault by beating at Birmingham Crown Court and the following year was fined £10,000.
Bramhall had in December 2020 been suspended from the profession for at least five months, but a report from the latest tribunal on Monday said a review hearing on 4 June found his fitness to practise was no longer impaired by reason of his criminal convictions and the suspension order was revoked.
The General Medical Council (GMC) also appealed against the suspension decision and a High Court judge, the report said, quashed the sanction, with the matter then resubmitted to MPTS for its consideration.
On Monday, MPTS found Bramhall's actions "breached" the trust between patient and doctor, and he was struck off.
Although, the tribunal said, it "accepted that no lasting physical damage was caused to either patient", Bramhall's actions had caused one of them "significant emotional harm".
It also noted Bramhall was of "previous good character" but erasure from the medical register was the "proportionate sanction" as the "overall context of providing life-saving care" did not mitigate against "Mr Bramhall's gross violation of his patients' dignity and autonomy".
Following the tribunal hearing, an immediate suspension order was put in place to cover a 28-day appeals period.
His actions came to light when 1.6-inch (4cm) initials were discovered by another doctor on an organ that had been transplanted by Bramhall and failed about a week after the operation.
Bramhall resigned from his job at the Birmingham hospital in 2014.
Related Internet Links
The BBC is not responsible for the content of external sites.