Great Barr: Distress of man, 76, repeatedly harassed by youths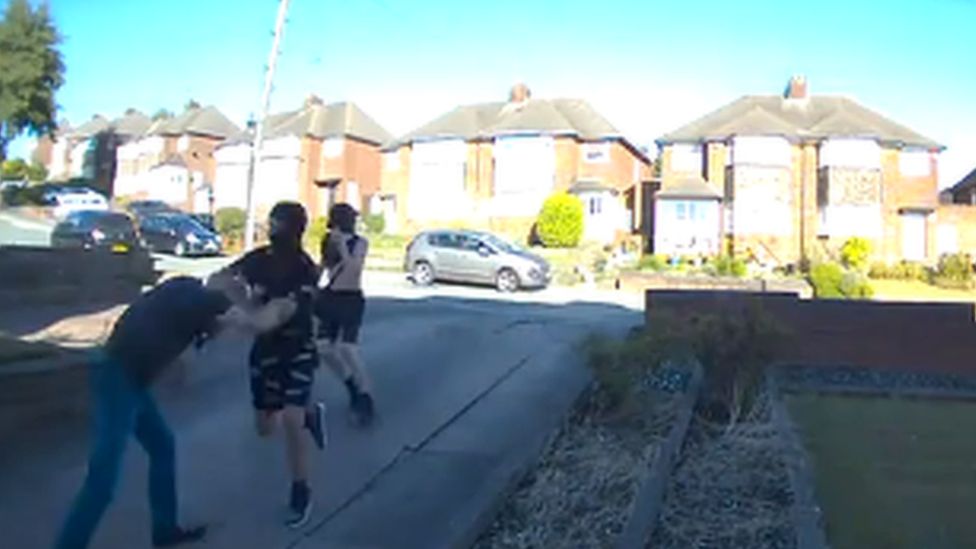 A 76-year-old man says he "can't keep going like this" as youths repeatedly attack him and his home.
Roy Muller's family has shared video footage on social media of a clash on his driveway amid criticism of the response by police.
Mr Muller said over the last 12 months masked youths had physically attacked him, thrown stones and kicked the door of his home in Sandwell, West Midlands.
Police say they are investigating and understand his distress.
Mr Muller said he did not know why he was being targeted, adding West Midlands Police was too slow to respond to incidents.
His daughter posted footage that showed several male youths on the drive of his Great Barr property who push and shove him, bringing him to the floor before running off.
Mr Muller said: "It's been going on for nearly a year and they run up and down the road and kick my door, throw stones, knock my door.
"Now they're coming masked up, as much as two or three times a week - twice a day sometimes."
He said he was constantly looking out his window and was worried when the next incident would be.
No-one else in his street had been targeted, he said.
In a statement, West Midlands Police said: "We fully understand how distressing this is and are looking to safeguard the man while progressing inquiries to establish those responsible.
"Officers from the local neighbourhood policing team are aware of ongoing anti-social behaviour and are routinely monitoring the area as part of their patrols strategy.
"We take all allegations of harassment incredibly seriously, and we are committed to ensuring the safety of our community."
Mr Muller said: "I am 76 and I had a heart attack last year before this started but I can't keep going like this."
He said he first contacted police four months ago, hoping before then the activity would stop. But he said by the time police responded to his complaints, the youths would be gone.
He added some officers had driven round the local area and four youths were apprehended, but no arrests were made.
Related Internet Links
The BBC is not responsible for the content of external sites.