Pay-out to man left disabled after diagnosis failures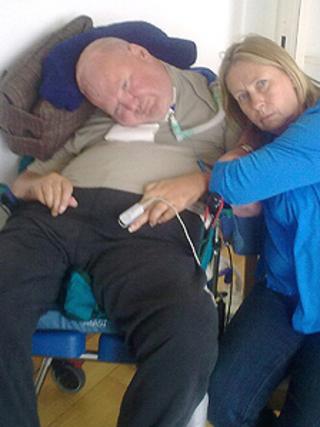 A man who lost the use of his limbs after doctors did not sufficiently investigate neck and shoulder pain has been awarded £825,000 in compensation.
Doctors initially thought Tim Joplin, of Dudley, West Midlands, pulled a muscle doing DIY, his lawyers said.
They said after five days in Russells Hall Hospital, no diagnosis was made and he was later found to have an abscess compressing his spinal cord.
The trust said it "accepts that there were lessons to be learned".
The compensation figure was agreed in an out-of-court settlement, it added.
Speaking through his lawyers Higgs & Sons, Mr Joplin said: "Numerous polite inquiries were made to the staff expressing concerns about my care and pointing out my deterioration, but none of these were addressed."
'Almost constant pain'
Mr Joplin, an artist and former lecturer, went to the hospital in the town complaining of extreme neck and shoulder pain in 2003.
Higgs & Sons said that after five days there, despite rapidly worsening symptoms and the onset of paralysis, no diagnosis was made or effective treatment started.
Mr Joplin was eventually transferred to the Queen Elizabeth Hospital, Birmingham, where he was diagnosed, after MRI investigation, as suffering from the abscess which was compressing his spinal cord.
He had emergency surgery to drain the abscess but was left permanently paralysed in all four limbs.
Mr Joplin added "no amount of financial compensation" could buy him back his quality of life.
He said: "It is gratifying to know that eventually my complaints were upheld.
"The encounter I had at Russells Hall Hospital in March 2003 changed me from being a socially skilled individual and useful member of my family to complete dependency and in almost constant pain.
"I now want others to realise that they should not be complacent when seeking help from the NHS.
"Everyone should be vigilant when an in-patient, and family and friends must be prepared to complain and complain again loud and clear if they have any concerns."
In a statement, The Dudley Group of Hospitals NHS Foundation Trust said it "very much regrets" the circumstances of Mr Joplin's injury.
It said: "It accepts that there were lessons to be learned and certain systems rectified in order to protect other patients in the future.
"We are very pleased that a financial settlement has been reached and hope that this will provide financial security to Mr Timothy Joplin and his very caring family in the future."