Brinsford youth prison staff suspended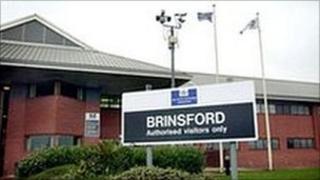 Four officers have been suspended at a young offenders institute near Wolverhampton.
The Ministry of Justice said it was investigating staff behaviour at Brinsford Young Offenders' Institute during four separate incidents.
It said unrelated incidents occurred on 28 May, 16 June, 9 July and 13 July.
Inmate safety was criticised by HM Inspectorate of Prisons in a report in June based on inspections at Brinsford in November and December.
The prison workers have been suspended on full pay.