Halesowen funeral of Marine killed in blast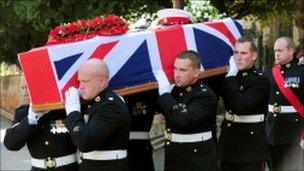 Hundreds of mourners have attended the funeral of a Royal Marine killed in an explosion in Afghanistan.
Marine Jonathan Crookes, 26, from Halesowen, West Midlands, died during a patrol in the Sangin district of Helmand province on 16 July.
His fiancee, Danni Davis, arrived at the funeral at St John's Church in Halesowen carrying what would have been her bridal bouquet.
Miss Davis said Marine Crookes had made her "the happiest girl in the world".
The couple, who were together for six years, had not set a date for their wedding when he was killed.
Marine Crookes, from 40 Commando Royal Marines, was a reservist on his third deployment to Afghanistan, having volunteered for service in 2007 and 2009.
More than 1,000 people attended the ceremony and lined the surrounding streets to pay their respects to him.
During the 50-minute service, Miss Davis fought back tears as she told mourners that she loved her fiance "to the moon and back" and thanked him for loving her unconditionally.
Miss Davis had asked a local florist to make the wedding bouquet for the funeral.
The serviceman's brother and sister also addressed mourners during the funeral, remembering him as a magnanimous and determined man who refused to let the word "can't" figure in his vocabulary.
Speaking before the funeral, Major Ed Moorhouse, of 40 Commando Royal Marines, said Marine Crookes had acted as a mentor to younger comrades and would be remembered as "an ox of a man".
The officer added: "Being a reservist, he had done tours before and, as a consequence, was very much a father figure."
Known as "Crooksey", Marine Crookes joined the Royal Marines Reserve, Birmingham Detachment, in September 2005 passing for duty as a Royal Marines Commando in November 2006.
Outside the Royal Marines he was studying for a degree in international relations and worked as a tree surgeon and labourer.
After his death, his mother Sue Crookes described him as a "caring, thoughtful son, full of life".
Related Internet Links
The BBC is not responsible for the content of external sites.