Meeting probes Pooley gates claim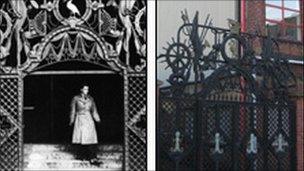 A meeting is to be held over whether two gates at a Black Country foundry should be returned to Liverpool.
Liverpool City Council has submitted a request to Sandwell Council for the two Henry Pooley gates to be removed from the Soho Foundry in Smethwick.
The historic gates include one of the earliest architectural depictions of the Liver bird.
Sandwell Council leader Darren Cooper said he wants to know more about the issue before making a decision.
He plans to hold a meeting involving council officials and local historians to scrutinise the gates' history.
He said: "The gates are part of the World Heritage site which forms part of the Soho Foundry.
"I need to understand the history of these gates in relation to Sandwell."
The gates were made in Liverpool by Henry Pooley & Sons but were taken down in the late 1940s due to war damage.
Henry Pooley & Sons merged with Avery and the gates were offered to the firm, which is based at Soho Foundry, Foundry Road
The current owners, Avery Weight-tronix, have been in talks with Liverpool City Council over the possible sale of the gates. The firm says it regards itself as custodians and it is up to the two councils to decide where the gates should be.
Liverpool City Council said it believed the city was the gates rightful home.
"They were made in Liverpool and were in place in Liverpool for 100 years at the former Sailors' Home. They are currently dismantled in a workshop and undergoing conservation work.
"We believe the key issue is the relevance of the gates to their location and setting and where they have the greatest association, which is Liverpool.
"They strongly feature the Liver Bird symbol of the city and many Liverpool people, especially former sailors and their families, have long campaigned to have them returned."
Related Internet Links
The BBC is not responsible for the content of external sites.