Black Country plastic surgeon struck off for sex acts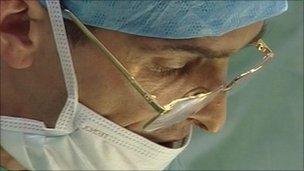 A Black Country plastic surgeon has been struck off by the General Medical Council (GMC) for indecently assaulting six patients.
Aivar Bracka denied the charges, but the GMC found his actions were sexually motivated, improper and inappropriate.
Bracka, of Balmoral Road, Wordsley, was cleared of indecently assaulting five of his patients at Wolverhampton Crown Court last year.
The General Medical Association then held its own investigation.
It said he was opportunistic and had grossly abused his patients' trust.
Its findings concluded that Bracka's conduct was "fundamentally incompatible with his continuing to be a registered medical practitioner".
The GMC heard evidence that Bracka had performed inappropriate sex acts during a 13-year period with six young men in his care, including two boys aged under 18.
Bracka told the GMC he had exposed himself to patients in limited circumstances but never to a juvenile.
The offences took place between 1987 and 2000, some of them at the Wordsley Hospital, which has since closed.
Related Internet Links
The BBC is not responsible for the content of external sites.