Wolverhampton pilot's family urges public to live dream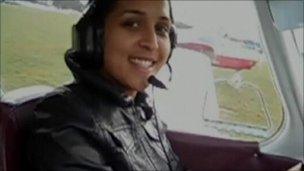 The family of a pilot who died in a US plane crash said they hoped her death would not be in vain and could inspire others to follow their dreams.
Jaskinder Samra, 21, from Wolverhampton, was a former air hostess who had retrained as a private pilot.
She qualified five months ago and was a passenger in a light aircraft that crashed in Georgia on 24 September.
Her mother said she never imagined her daughter would die before her, but was glad she pursued her dream.
Miss Samra and the pilot died when the Cessna crashed in Chatsworth, Georgia. A second passenger survived.
Mindie Samra, of Cannock Road, Wolverhampton, said: "You never think your children would die before you.
"Let them fulfil their dream, little or big, just let them do it."
The Federal Aviation Authority and National Transportation Safety Board's crash investigation is ongoing.
Related Internet Links
The BBC is not responsible for the content of external sites.