Fire-hit school pupils taught in Black Country church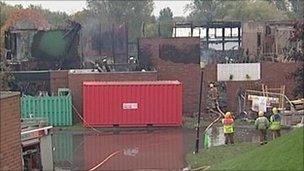 Pupils from a school almost destroyed by fire a week ago are being taught in a nearby church.
More than 300 children attend Wilkinson Primary School in Bilston but just nursery children and those who need childcare returned on Monday.
An investigation into the fire is still under way but it is thought the fire was started deliberately.
Deputy head Tom Neal said offers of help from other schools had been "fantastic".
He said: "Our feet have haven't touched the ground at all.
"All the local schools have been fantastic in offers of help with furniture.
"Since the furniture was in the classrooms we then had to find the resources to go in there - pens, pencils, books - because we were left with absolutely nothing."
Related Internet Links
The BBC is not responsible for the content of external sites.