Oldbury mother critical after house hit by car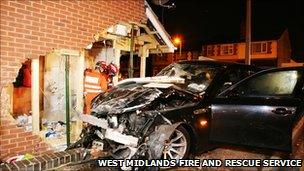 A mother has undergone surgery and her 16-year-old daughter remains in hospital after a car crashed into their home, bringing down a wall and ceiling.
A BMW driver lost control coming down Rood End Road hill and crashed into their home in Fisher Road, Oldbury, shortly before 1630 BST on Wednesday.
Three other children in the house were treated for shock, cuts and bruises.
The driver was taken to hospital with chest pains, West Midlands Ambulance crew said.
Amanuel Zere was out shopping when he heard what had happened to his wife and children.
He said: "It was terrible. It's hard to know what to feel, your children bleeding and my wife in a critical condition."
A neighbour, Baker Al Adami, helped to remove some of the rubble which landed on the family when the kitchen wall and ceiling collapsed.
The crash comes three months after another car drove into a house on the opposite side of Fisher Road on the corner.
David Price, who owns the first house on Fisher Road to be hit, said: "A vehicle came down the road and basically parked on top of my van, pushing it into my house."
Related Internet Links
The BBC is not responsible for the content of external sites.