Husband jailed for wife's metal bar murder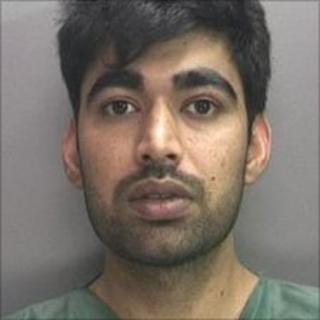 A man has been jailed for life for murdering his estranged wife by hitting her with a weightlifting bar.
Imran Iqbal, 27, of Netherton, in the West Midlands, hit Yasmin Akhtar, 24, several times to the head with the bar at her home in November 2009.
The Wolverhampton Crown Court jury returned a unanimous guilty verdict after three hours of deliberations.
The court heard that Mrs Akhtar had suffered previous domestic abuse at the hands of Iqbal.
Iqbal was sentenced to life and told he must serve at least 16 years in jail.
Mrs Akhtar, the mother of Iqbal's three children, had lived in Purlin Wharf.
Speaking after the verdict, Insp Richard Jones, of West Midlands Police, said: "This was a distressing and difficult case to investigate and I am pleased that Yasmin's family and friends have seen justice done.
"The court has heard how Yasmin suffered some months of domestic problems prior to her death, and ultimately was never able to leave her unhappy marriage to pursue another life as she had hoped."
The force had referred the case to the Independent Complaints Commission (IPCC).
'Sad and disturbing'
The IPCC found no failings by the force, which had previous contact with Mrs Akhtar.
The IPCC said a number of measures were put in place after officers responded to a domestic violence incident and Mrs Akhtar was identified as being at "very high risk".
However, it said a panic alarm to alert police was removed from her home after it was found she had invited Iqbal to move in to look after their children while she attended college.
Len Jackson, IPCC commissioner for the West Midlands, said: "This is a very sad and disturbing case.
"It is clear that Mrs Akhtar did not appreciate that she and her children were at risk, despite the advice she received from the police and other supporting agencies."