Tributes to Mandy Finn found stabbed in Wolverhampton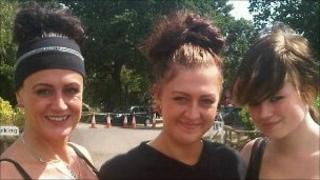 The daughter of a woman found stabbed in Wolverhampton has paid tribute to her "best friend".
The body of mother-of-two Mandy Finn, was found at a property in Newhampton Road, on Sunday.
Jade Stokes said in a statement that her mother would have done anything for anyone.
A post-mortem examination showed the 40-year-old died from stab wounds, West Midlands Police said. A 49-year-old man has been charged with murder.
Ms Stokes said her mother had touched so many people's lives.
'Wonderful mother'
She said her mother, a teacher at Wolverhampton College, achieved her dream of attaining a BA Hons in Psychology and went on to study for a Phd in cyber psychology.
"She was my everything, my best friend. I could take her anywhere and be proud to say she's my mom," Ms Stokes added.
Other relatives - Mrs Stokes' other daughter Sally-Jo Cramman, 14, her father Nigel Cramman and Jade's father Dean Stokes - said: "Mandy was the most beautiful person - in every respect- to have graced our lives.
"She was a wonderful mother and partner and gave so much to so many, sacrificing her own needs for others.
"We will miss her for eternity."