Sandwell school fears "bandwagon" over Koran burning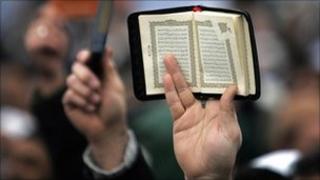 A senior teacher at a Sandwell school at the centre of a Koran burning controversy says he fears extremists may use the row as a "bandwagon".
Two weeks ago a girl, 15, was arrested on suspicion of inciting racial hatred.
And on Tuesday a 14-year-old boy was arrested on suspicion of making threats against the girl. Both have been released on police bail.
It is thought images of the book-burning, on school premises, were posted on Facebook.
'Unaware of consequences'
It is understood the girl, who lives in the Sandwell Council area, was filmed setting the English language Koran alight while other pupils watched.
"I think this young lady did not realise exactly what she was doing. In fact I know she didn't," said the teacher, who cannot be named.
"Because if she stopped to consider the fallout of doing this kind of thing, and she considered the offence it would cause to people within her own community in the school, I honestly don't believe she would have done it.
"And I also know for a fact that she deeply regrets what she has done."
'Deep-seated fear'
The teacher said he saw two Facebook profiles containing threatening comments against the girl.
The profiles have now been removed from the site, say police.
"We informed police of the incident, clearly, because of the seriousness of it," said the teacher.
"I'm very concerned over the wider impact of this in terms of people with extreme views may choose to jump on a bandwagon.
"That is my deep-seated fear at this moment in time."
Students have been given the opportunity to talk through the events, the teacher added, and the school was "stronger" as a result.
"The majority [of students] were shocked," he said.
The teacher said both students had been excluded from the school for a fixed period while decisions about their future are made.