Walsall houses damaged after main bursts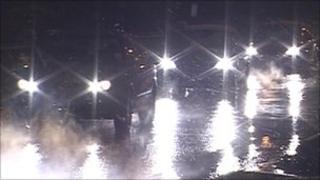 Eight houses in the Midlands were damaged when freezing weather caused a water main to burst.
Broadway North in Walsall was closed at 1625 GMT after the pipe burst at the junction with Birmingham Road.
Engineers from South Staffs Water were still working to fix the problem during Wednesday evening.
Broadway was closed between Sutton Road and Birmingham Road and the firm said it would remain shut until at least Sunday.
A spokesman said the road was ruptured and it might take a few days to fix.
He added nobody was without water during the evening and offered the firm's "sincere apologies" for disruption caused.
The spokesman said the problem was out of the company's control and was "due to extreme weather conditions".