Dudley woman died of industrial disease, inquest finds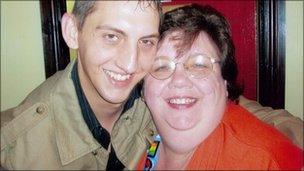 A verdict of death by industrial disease was returned into the death of a West Midlands woman who contracted Legionnaires' disease, solicitors said.
Five cases, including that of Patricia Ashton, 51, were confirmed between June and August 2007 and traced to a small area in Dudley, Irwin Mitchell said.
The inquest found underlying medical conditions contributed to her death.
The Health Protection Agency (HPA) said a suspected outbreak was declared over in early September 2007.
Mrs Ashton, of Holly Hall, Dudley, was having treatment for non Hodgkin's lymphoma when she was struck down with Legionnaires' disease in August 2007, Irwin Mitchell said.
Speaking on behalf of the family in a statement released by the firm, Mrs Ashton's son Ian said: "Even now, three years on, it's very difficult to come to terms with Mum's death.
"Although she had been battling cancer, the doctors had told us that she was in remission and all the signs were that she had beaten the illness.
"We are convinced that if she hadn't contracted Legionnaires' she would still be with us today."
'Identifying cooling towers'
The verdict was death by industrial disease with underlying medical conditions contributing to or leading to death.
The HPA said during an investigation in 2007 into a suspected outbreak of Legionnaires' disease by a number of agencies, all likely sources of infection were visited and actions taken to minimise further risk.
A spokesperson added: "This included identifying cooling towers across an area of Dudley, assessing risks, sampling, advising on the cleaning and where necessary enforcement action by the HSE.
"No specific source was confirmed and the suspected outbreak was declared over in early September 2007.
"To date there has been no further increased numbers of cases or suspected outbreaks of Legionnaires' disease in this area."
Related Internet Links
The BBC is not responsible for the content of external sites.