Injured ex-soldier from Tipton begins marathon feat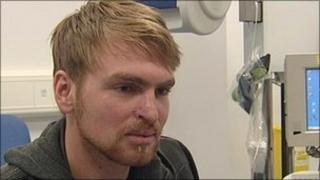 A former soldier hoping to raise money for a burns unit which treated him has completed the first of 52 marathons planned for this year.
Karl Hinett, of Tipton, West Midlands, who suffered 37% burns in a petrol bomb attack in Iraq, completed a marathon in Zurich, Switzerland, on New Year's Day.
He has pledged to run a marathon every weekend of 2011 to raise money for Birmingham's Queen Elizabeth Hospital.
Mr Hinnett said he wanted to show staff how much he appreciated them.
The ex-gunner's tank was set on fire by a mob in Basra in 2005 leaving him with burns to his hands, legs and arms.
He was taken to a field hospital and then sent to Selly Oak Hospital, which has been replaced by the new QE.
"I always wanted to give something back because the doctors and nurses did such a fantastic job and I'm capable of doing something like this," he said.
Mr Hinnett, who has endured five years of surgery, is funding his marathon feat using his Army pension.
"As well as physically helping me, they put me in such a good mental state that I feel well enough to take on this challenge," he said.
"And this is just how much they mean to me that I'm willing to fund it myself if I have to, just to say thank you."
US marathons
Mr Hinett and his Staffordshire Regiment colleagues had been taking part in an Army rescue operation to free two British soldiers who were being held in Basra when they were attacked.
After being engulfed in flames, he was carried to safety by other soldiers and transported to a field hospital before being taken to Selly Oak. He spent 11 days in a coma.
"Every time I hear about it, it just feels like someone else's story," he said.
He added: "It's a way of life, living with the burns and scars, I don't know anything different now."
Mr Hinett is flying to the US on Thursday where he will take part in a marathon in Orlando, the first of six marathons in the country.