Pakistan village renamed Midlands after charity helps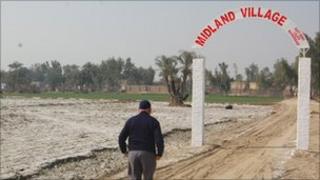 A village in Pakistan devastated by flooding has been renamed Midlands after a West Midlands charity raised money to help rebuild it.
Walsall-based Midland International Aid Trust raised £113,000 to help the 20 million people thought to be affected by the monsoon floods last year.
The village of Lal Pir, now named Midlands, had been cut off by water.
Mohammed Aslam MBE, the trust's founder, has been visiting the country to oversee how the aid is spent.
Mr Aslam, 71, originally from Kashmir, said he wanted to make sure every penny of aid went to the people living in the region.
He said in August he could only reach Lal Pir by boat.
Now all 36 homes which were destroyed have been rebuilt, at a cost of £2,000 each, after the charity provided the villagers with materials and tools.
The floods struck the north of the country in August. At least 1,500 died in the deluge.