Wolves confirm plans to redevelop Molineux ground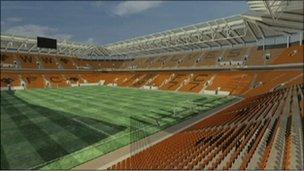 Wolverhampton Wanderers have announced plans to redevelop and increase capacity of their Molineux ground.
The first phase, costing about £16m, will begin with the demolition the Stan Cullis (North) Stand in May and a new two-tier stand will be built.
This has been scheduled to be completed in time for the 2012/2013 season.
Capacity will rise from about 29,000 to 31,700 and the club is considering a second phase of redevelopment.
If they do proceed with further work, the total cost will be about £40m and capacity will increase to about 36,000.
But the club said the precise final capacity figure was subject to change and plans for a third phase of work had not been costed.
Wolverhampton City Council confirmed the club had been given planning permission for the first stage of redevelopment.
During the revamp, Molineux's capacity will be temporarily reduced to about 23,995.
But Wolves said the main contractor expected to be in a position to release some uncovered seats in the Stan Cullis Stand early in the new season.
The capacity will rise from about 29,000 to around 31,700 when the new Stan Cullis stand, extending into the north east open corner, has been completed.
Away fans will be permanently based in the north east quadrant.
Chairman Steve Morgan told the club's official website: "We know there is a balance to be struck.
"This decision is about a statement of our commitment, belief and ambition and about the planned success for Wolves over the medium to long-term.
"But we will also continue our policy of investing in our talented, young squad because there is no point in having a great stadium if we don't have a great team to play in it."
Wolves said the first phase, involving Buckingham Group as main contractors, will be funded from existing cash flow.
The redevelopment will include a new club megastore, museum, cafe, a family information centre, pitch-facing hospitality facilities, including a 500-plus capacity room, and a larger accessible lounge for disabled supporters.
The club said there were still some remaining legal formalities to be completed with Wolverhampton City Council, but these were expected to be finalised "within a matter of days".
Away fans will be located in the Jack Harris Stand Flank during development of the Stan Cullis stand.
Stan Cullis Stand and Jack Harris Stand Flank season ticket holders will be relocated elsewhere in the stadium for next season.
Councillor Roger Lawrence, a self-confessed Wolves fan, welcomed the announcement.
He said: "This is tremendous news, the football club is part of the lifeblood of this city and I know I will speak for many people when I congratulate Steve Morgan and the Wolves' board of directors for their vote of confidence in Wolverhampton with today's announcement.
"A redeveloped Molineux will not only be a superb venue for what we all hope will be continued Premiership football, but also a beacon for the ambitions we have to regenerate the city."
Related Internet Links
The BBC is not responsible for the content of external sites.