Wolverhampton City Council issues 500 redundancy notices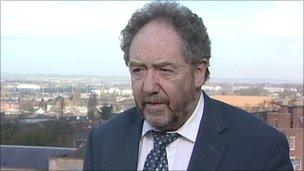 Wolverhampton City Council has issued redundancy notices to about 500 staff as it looks to save millions of pounds.
The Labour-controlled authority said it had previously identified £40m of savings but still has to find a further £60m over the next five years.
Councillors are recommending that a net budget of almost £240m be approved for 2011/2012 and council tax be frozen at 2010/2011 levels.
Unison said the city will suffer from more unemployment and service cuts.
Council leader Roger Lawrence said: "I'm hoping that through natural wastage and through voluntary redundancy many people will be able to be redeployed within the organisation.
"We're going to put resources in re-training people so they are able to take advantage of what few opportunities remain."
He said the authority, which employs about 11,000 people - about half of which work in the centrally-funded education sector - must save £35m in the next 12 months.
More than £1m is being saved by shedding one of four senior officers and reducing the number of assistant directors from 22 to 11, a spokesman said.
Mr Lawrence said the free swimming scheme for juniors would continue and funding would also continue for neighbourhood wardens and the anti-social behaviour unit.
He said: "The budget tries to protect the most vulnerable in the city.
"For example, there will be reductions in charges for non-residential services for older and vulnerable people and hot meals for older citizens with £280,000 being allocated to fund this."
But Tony Rabiotti, from Unison, said the job cuts would happen shortly.
"We're going to see millions and millions of pounds cut form public services," he said.
"There are going to be over 500 jobs to go of which about 300 are going to go immediately.
"So, there's going to be even more unemployment in Wolverhampton and people living in the city are going to suffer because services are just going."
The final budget is to be approved by cabinet on 23 February, the council said.
Related Internet Links
The BBC is not responsible for the content of external sites.