Wolverhampton City Council approves £35.6m budget cut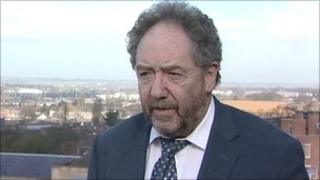 Wolverhampton City Council has agreed to make £35.6m of savings in the next 12 months, possibly resulting in the loss of more than 500 posts.
Councillors at the Labour-controlled authority met on Wednesday night to approve a £239.48m budget for 2011-12.
Council tax will remain at the current level of £1,316.72 for a Band D home.
Labour leader Roger Lawrence said the council had to make £100m of savings in five years and issued redundancy notices to 500 staff in February.
Mr Lawrence said the council had had to make some "extremely difficult" decisions about its budget as a result of central government's Spending Review in October.
"Over the coming months, services will have to be re-shaped and several hundred jobs will be lost, starting with a number of the most senior posts in the council," he added.
However, a council spokesman said the budget had been drawn up to protect the most vulnerable people in the city.
The cost of having hot meals delivered at home would fall in April from £4.40 to £3.40, which he said would benefit about 245 people.
He said the cost of non-residential day care for band B or C customers would also be reduced from about £7 to £5 per week, benefiting up to 680 people, many of whom had disabilities or learning difficulties.