Smethwick headstones 'destroyed' in attack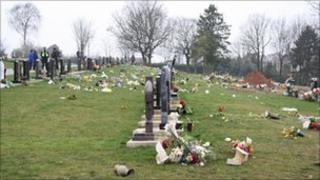 Dozens of headstones have been destroyed in a "disgraceful" attack on a cemetery in Smethwick.
About 40 memorials were kicked over and smashed, and flowers were strewn around Thimblemill Cemetery in Thimblemill Road on Wednesday night.
A spokesman from Sandwell Council said some headstones smashed in the attack were worth more than £10,000.
He said it was thought granite vases found on many memorials were used to smash against the gravestones.
Bereavement services manager Brendan Day said he was sickened by the attack.
"The damage is appalling, it is disgraceful. It's the worst damage of this kind that I've seen in 30 years," said Mr Day.
He added: "All of the staff are very upset. I've got people here this morning taking down details of the damaged memorials and then we will have to get in contact with the families to tell them what has happened.
"We will also have extra staff on duty over the next few days so they can talk to people visiting the cemetery about what has happened."
He said vandalism of graves was very rare, and security was good at the cemetery.
Sandwell Council's cabinet member for improvement and efficiency Councillor Mahboob Hussain, who officially opened the cemetery in October 2009, said: "I've never heard of anything like it in all my years at the council.
"To vandalise a cemetery is just disgraceful. I don't know how anyone in their right mind could even think of doing something like this.
"Our thoughts are with the families whose memorials have been damaged and our hearts go out to them."
He added they would be working with police to find out who carried out the attack.
West Midlands Police has asked anyone with information about the attack to get in touch.