Walsall Council's 24-hour tweets followed by thousands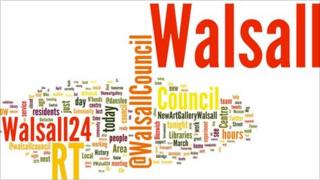 A Twitter feed highlighting the tasks performed by a council has been followed by more than 100,000 people.
Walsall council used the social media site to highlight the day-to-day tasks the authority carries out.
A council spokesman said the authority offered hundreds of services but many went uncelebrated so it had aimed to provide a brief snapshot.
Council staff posted 1,349 tweets about various services from 0600 GMT on Thursday to 0600 GMT on Friday.
'Growing in importance'
Walsall council Leader Mike Bird said: "Things have gone really well and there has been some amazing feedback not just from Walsall but internationally.
"It really does show that it's something that works to get a message out.
"I think we're showing the good work that we do for council taxpayers that often goes on unheralded.
"Twitter is not everyone's cup of tea and we understand that but it's something that is growing in importance."
As well as the 24-hour feed from the council, different departments are also tweeting for 24 hours including staff from library services, transport and museums.
Tweets included: "Steady on the roads this morning. We have more than 100 crossing patrol people helping children get to school."
"Hope these aren't related: Reports of both blocked sewers and 'rats as big as badgers' in Willenhall! The team are investigating."
"At 12 noon today we supervised the rescue of a woodpecker roost from a rotten tree in Willenhall Park."
The council spokesman said nobody had been taken off the front line and services had not been disrupted as a result of staff tweeting.
The council will attempt to publish the tweets on the authority's website at a later date.