Wedding ring rescued from Wolverhampton drain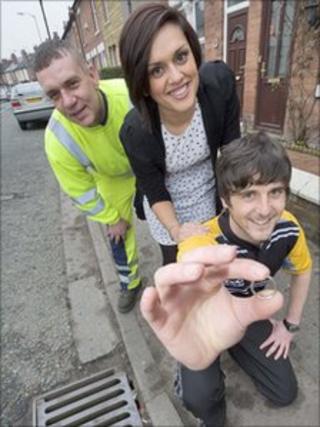 A Wolverhampton man has thanked council workers after they rescued his wedding ring from a drain.
Kevin Doughty, 28, of Aldersley Road, said he had "lost hope" of ever seeing the £300 platinum ring again after it fell from his pocket.
Kevin and his wife Michelle, 29, who have only been married for five and a half months, contacted the city council to see if anything could be done.
Council worker Jason Hall managed to retrieve the ring.
It was lodged in a trap which prevents anything other than water entering the sewer system.
Mr Doughty, a PE teacher at a school in Sutton Coldfield and Mrs Doughty, who works for Wolverhampton Primary Care Trust, said they would forever be indebted to Mr Hall.
Mr Doughty said: "I can't thank the council enough, I'm so grateful.
"I had the ring in my pocket as I'd been to the gym but when I got home it fell onto the floor when I put my hand into my pocket to get my keys.
"It was almost slow motion, there was nothing I could do as I watched it go into the drain. I really thought I'd never see it again."
He added: "Let's just say I'm much more careful about taking the ring off now and I stay away from drains."
Mrs Doughty said she was "not impressed" when Mr Doughty told her what had happened.
She said: "We haven't long been married and to think he'd lost the ring was pretty devastating."
'Happy in work'
She added when Mr Hall found the ring the couple were "over the moon".
Mr Hall, a gully cleanser for the council's Street Scene Services department, said he was "really pleased" he had managed to get the ring back to them.
He said: "It makes you happy in your work to be able to do things like this."
He added in the past he had been asked to retrieve keys, purses and sunglasses from drains.