Injured ex-soldier runs in 180-mile relay with staff who helped him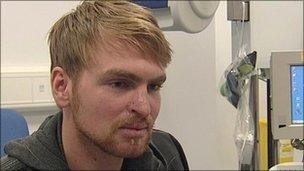 A former soldier who was badly burned in Iraq is starting a 180-mile canal relay charity run with some of the hospital staff who treated him.
The run begins at the Queen Elizabeth Hospital in Birmingham on Thursday and ends with the last team member running the London Marathon on Sunday.
Karl Hinett, who has pledged to run a marathon every weekend in 2011, will start the challenge.
He suffered 37% burns in a petrol bomb attack in Iraq in 2005.
The ex-gunner and his Staffordshire regiment were taking part in an Army rescue operation to free two British soldiers who were being held in Basra when they were attacked.
His tank was set on fire by a mob and he suffered burns to his hands, legs and arms. He spent 11 days in a coma.
Mr Hinett's marathon pledge is to raise money for the hospital, which is also the aim of the relay canal challenge.
The team of 15, which includes organiser Alun Ward, burns patient Faith Binkles and medical staff, will follow the Worcester and Birmingham Canal to the Gas Street Basin, then the Grand Union Canal to Limehouse, east London.
From Limehouse they will run on the Thames Path under the Greenwich foot tunnel to the start of the London Marathon in which Mr Ward will take part.
Mr Ward said: "Faith's experience as a patient of the burns unit at the Queen Elizabeth Hospital in 2003 is the reason Burn to Run is taking place.
"Without the expertise of this excellent team it is unlikely that she would have been running anywhere.
"We're thrilled Karl has volunteered to begin our fantastic challenge and we're really proud to be ending it with the world-famous Virgin London Marathon."
Mr Hinett, who is running the first 20 miles of the canal relay, will not take part in the marathon in London, instead competing in another in Vienna.
Related Internet Links
The BBC is not responsible for the content of external sites.