'Insignificant' loner Griffiths became serial killer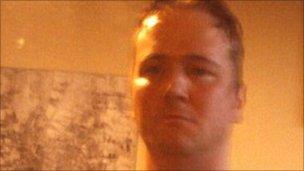 As he stood handcuffed in the dock at Bradford Crown Court, Stephen Griffiths was asked to identify himself.
"The crossbow cannibal", the 40-year-old student replied, to gasps from the public gallery at Bradford Crown Court.
Griffiths' appearance came at the end of a week of intense police activity by detectives investigating the disappearance of Suzanne Blamires, Shelley Armitage and Susan Rushworth, who had all worked as prostitutes in the city.
As the inquiry gathered pace, details about the man suspected of their murders emerged.
Griffiths had lived for a number of years in the third-floor of a block of flats at Holmfield Court, a converted mill building close to the city's red-light district.
Described as a "loner" by neighbours, he cut a solitary figure.
Dressed in a knee-length black leather coat, with sunglasses and his hair scraped back, Griffiths could sometimes be seen taking his two pet lizards for walks on dog leads.
One Bradford man who used to play chess with Griffiths at their local bar said he was "really good" at the game.
"He would tell you where you had gone wrong and still beat you," he said.
The man, called Jacquesy, said Griffiths, who they nicknamed "Peanut", had seemed very intelligent.
"He had an answer for every argument you had."
Describing his reaction to the news of Griffiths' arrest, Jacquesy said: "I just couldn't believe it, it was a shock."
Griffiths spent part of his childhood on a council estate in Wakefield where he lived with his mother and siblings.
One neighbour told the BBC he appeared to be different from other children.
"He didn't play out and you only saw him at night," she said.
"We used to see him with an airgun, shooting birds, then we used to see him dissecting birds.
"It looked as if he was enjoying what he was doing. He wasn't dissecting them bit by bit, he was ripping them apart."
Despite his modest background, Griffiths received part of his education at the town's prestigious fee-paying Queen Elizabeth Grammar School.
A former classmate of his told BBC Look North that he had come to the school at the age of 13 and was there for about three years.
The man, who wishes to remain anonymous, said: "He was very quiet and pretty insignificant really."
He said Griffiths had been interested in martial arts and he recalled him bringing weapons into school.
"He brought with him on one or two occasions a rather vicious looking dagger and some throwing stars," he said.
He added that Griffiths had a keen interest in fantasy role-playing books involving dragons and other mythical creatures.
"If you look at the boy Griffiths, he was a small, thin, below average-sized pupil," his former schoolmate said.
"Yet in his books and in his games he was an all-powerful big macho type that was killing and slaying and winning."
Griffiths left school at the age of 16.
In his late teens he was jailed for slashing a shop worker with a knife. He was assessed at Rampton high security hospital, which deemed he did not pose a risk to society.
On his release from jail, Griffiths continued his education at Bradford College and went on to get a degree in psychology at Leeds University.
At the time of his arrest he was studying for a PhD at the University of Bradford.
His studies focused on patterns of crime in the city during the 19th Century. His chosen dissertation was entitled Homicide in Bradford 1847 - 1899.
Griffiths could often be seen at the city's library poring over books about murders.
He also expressed this interest online, reviewing books and DVDs on crime and killing under the name Ven Pariah.
Griffiths' former classmate said he had been stunned at events that would unfold some 27 years later.
"It didn't sink in at first," he said. "No-one expects to go to school with a serial killer.
"It's an extremely unusual story to hear anyway, but then to find out that you've actually spent a formative part of your life with such a person just brings a little chill to the spine."
Related Internet Links
The BBC is not responsible for the content of external sites.