Jobs boost as M&S warehouse opens in Bradford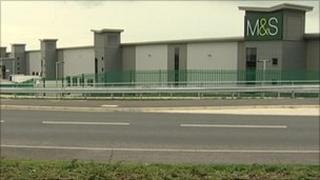 A Marks and Spencer distribution centre that will create hundreds of jobs in West Yorkshire has been opened.
The 1.1m sq ft (102,000 sq m) building, on the ProLogis Park off the M606, is the one of the largest warehouses in the UK.
Marks and Spencer said the centre would employ more than 1,200 people when it becomes fully operational next year.
The company said Bradford was chosen for the site because of its "fantastic" transport links.
The centre was officially opened by Marks and Spencer chairman Sir Stuart Rose and council leader Ian Greenwood.
Economy benefits
Initially it will distribute furniture and equipment such as shelving to Marks and Spencer stores and will send out tinned and packet foods next year.
Mr Rose said: "Bradford is accessible to something like one sixth of the UK population within about half an hour.
"It's a major hub in terms of distribution in the UK and that's why we've chosen this site."
Darrell Stein, Marks and Spencer's logistics and IT director, said it was an "exciting day" for the business.
David Green, Bradford Council's executive member for regeneration and economy, said: "This site will provide hundreds of jobs for residents, contribute millions of pounds to our economy over many years and act as a catalyst for further growth."